We have all been there… we find ourselves back at the fridge picking through whatever might look tasty. Not because we are particularly hungry, but because it is available. Trust me, I understand. My work from home 'desk' happens to be the kitchen table, meaning I am just a few steps from the fridge, pantry, and endless food options. Good news – there are a few simple tips and tricks to help all of us stay on track with healthy eating through this unique time!
1. Hunger scale
This trick will help you to stay mindful when you find yourself grabbing for your next snack. Ideally, try to stay within the 4 to 6 range. If you do find yourself in the lower numbers, filling up on traditional snack food may not cut it. Try eating something with more staying power – see below for examples.

2. Eat on a schedule
This can be really effective for some people. Try to space small meals/snacks every ~3-4 hours. This means you do not go too long between eating and risk becoming too hungry. This can also help you stay within the 4 to 6 range on the hunger scale.
3. Mindful measurements
Many of us take our meals and snacks to work and thus understand about how much we are consuming. Try to recreate that routine at home. Instead of reaching into the bag or box of something, determine the portion you need and remove it from the container.
4. Time to stop snacking
We have all been there – we feel that we can't stop the snacking! It may sound odd, but cleansing the palette with a strong, refreshing flavor can really help. Go brush your teeth, drink peppermint tea, or chew mint gum. I can promise you, that BBQ flavored chip is not going to taste good once you brush your teeth.
5. Combine food groups
Many people do well when combining food groups for snacks. This allows you to have multiple flavors, textures, and colors on your plate (all very important). Different foods break down in the stomach at different rates. For example, most carbohydrates break down and leave the stomach fairly quickly – this is great for when you need a bit of quick energy, say before exercise. Conversely, most fats break down and leave the stomach more slowly. By combining multiple food groups, you can have the best of both worlds. Try to start with your vegetables – they will offer very few calories with tons of nutrients! Then add ~2 other items to round out your snack.

Here is my snack plate from the other day: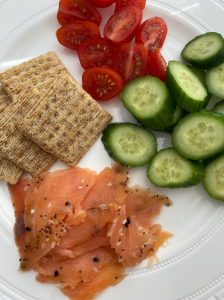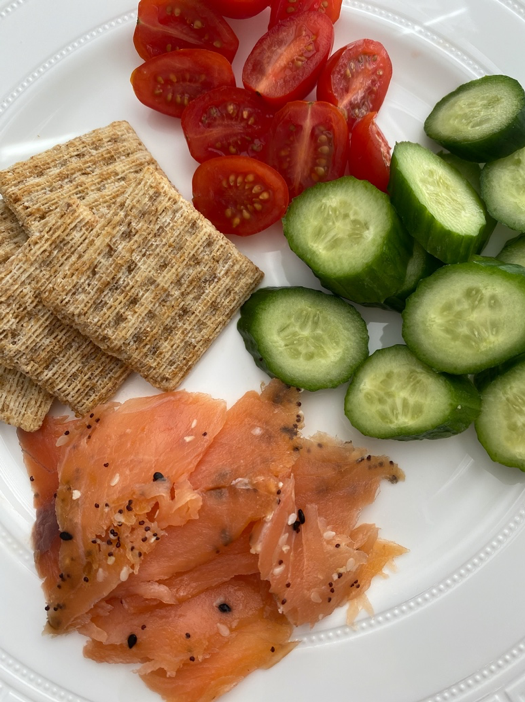 I started with tomatoes and cucumbers as my vegetables (for low calorie bulk), then added whole-grain crackers for crunch, and finally some smoked salmon for a high protein addition.
6. Snack plates for meals!
If you love the idea of munching on a quite a few items for a meal, then making a snack plate is the way to go. It's the adult version of a Lunchable! Since working from home these have been fun to make, while also helping me get through random items left over in our fridge and pantry. What fun snack plates can you make?
A few examples of my recent snack plates: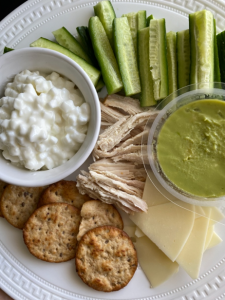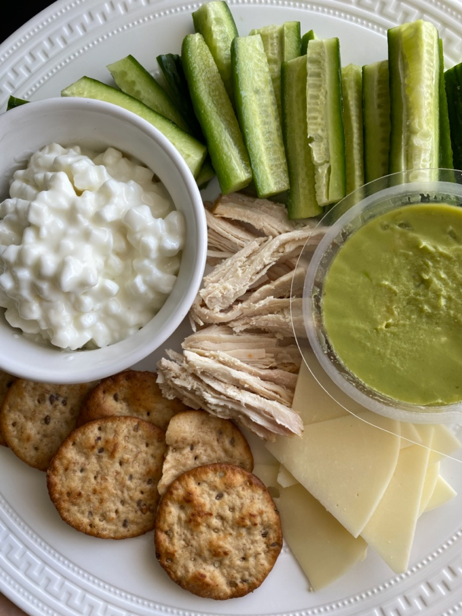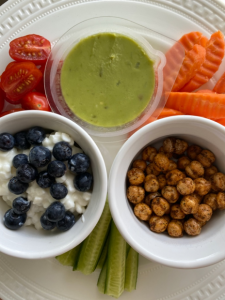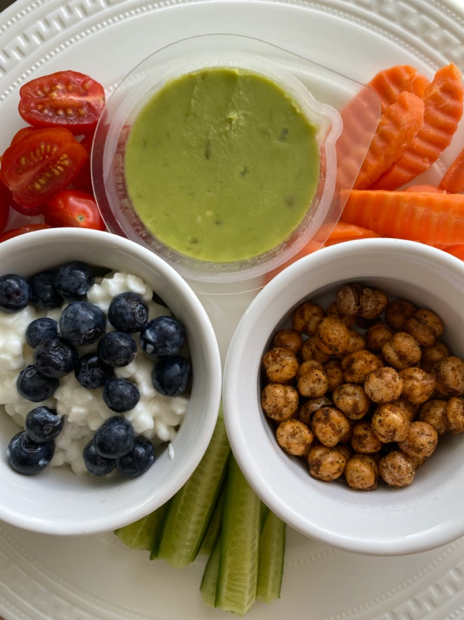 Don't miss another great blog: Subscribe Now