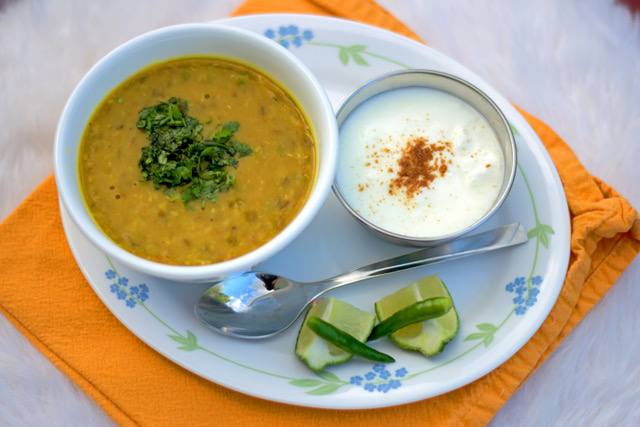 Khichdi is a very popular dish from the Indian subcontinent and has many variations depending upon the different regions of India. The common theme is that it is made from a mix of rice and lentils – it is like a savory porridge that is served hot. It is usually one of the first solid foods given to babies and is quite nutritious because it combines a grain and lentil in one dish. Traditionally, khichdi is made in a pressure cooker. I like using the Instant Pot recipe which makes it very easy and quick to make and removes much of the guesswork.
A few notes about ingredients used in this recipe:
Khichdi is traditionally made with ghee or clarified butter. I make my recipe with olive oil which is a healthier alternative and still tastes good.
Khichdi is generally made with white rice. I have replaced this with brown rice which actually tastes better because the whole grain rice is chewier.
This recipe uses two different lentils for variety, but it can also be made with any one of the lentils.
Hing is a spice that is added to many Indian dishes. It has a strong taste and may not be readily available in regular grocery stores. It is completely fine to omit this ingredient from the recipe. I have kept it in the recipe in case you have it in your spice rack.
All other spices, especially the cayenne, can also be adjusted to your taste. Garam masala is also optional.
Serves 6
Ingredients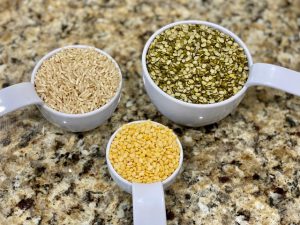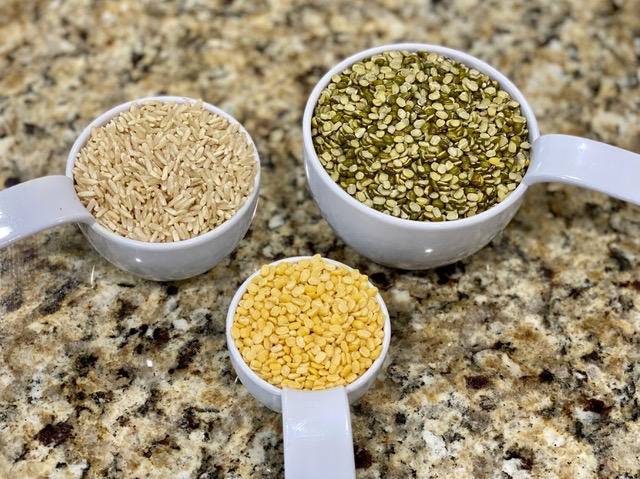 1 cup (200 gm) split moong/mung lentils
¼ cup (60 gm) yellow moong/mung lentils
½ cup brown rice
4 tbsp olive oil
¼ tsp asafoetida (hing) powder (optional)
2 tsp ginger, grated
1 tbsp cumin seeds
1 tbsp turmeric powder
½-2 tsp cayenne pepper
½ tsp garam masala (optional)
1 cup frozen green peas (petite green peas preferable)
8 cups water
Salt to taste, start with 1 tsp and adjust at the end
Directions
1. Combine the lentils and rice rinse several times until the water is clear.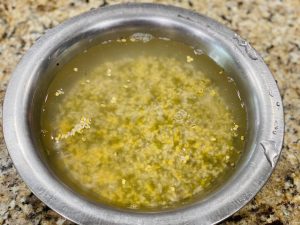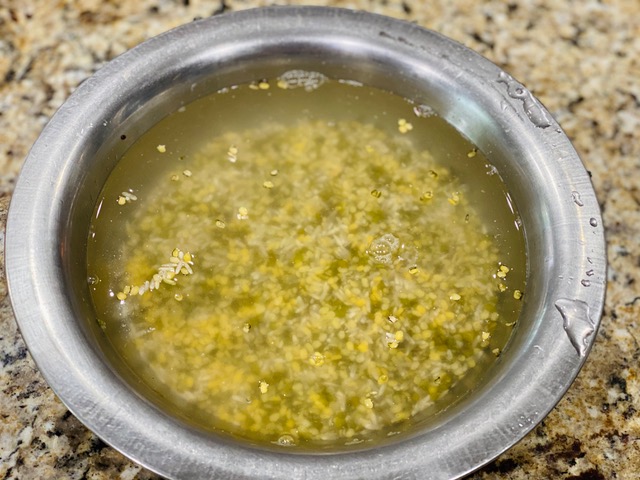 2. Cover with water and soak for 30-45 minutes.
3. Drain the water.
4. Turn on the Instant Pot and put it on sauté mode. Add olive oil. Once hot, add hing, ginger, cumin seeds, turmeric powder, cayenne pepper, and garam masala. Sauté for 30 seconds to 1 minute, stir so the spices do not burn or stick.
5. Cancel the sauté mode.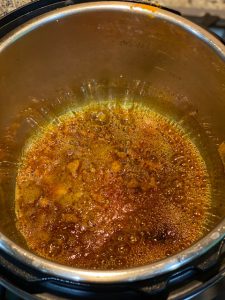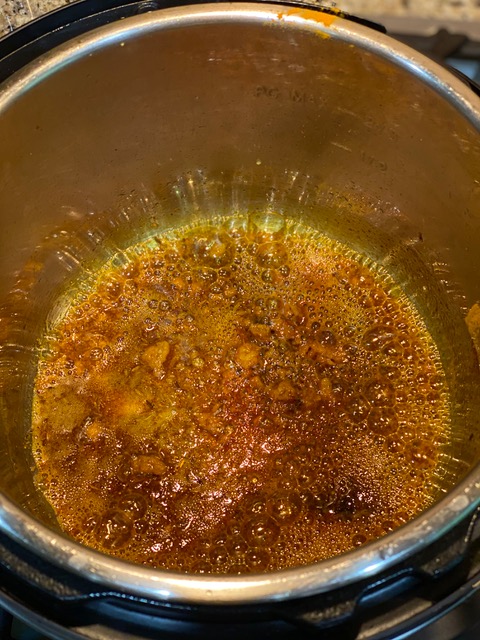 6. Add the washed lentils and rice, frozen peas, and water. Add salt to your taste. Stir well.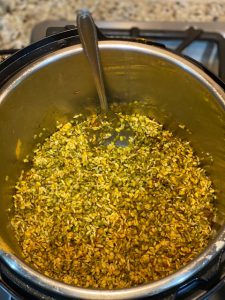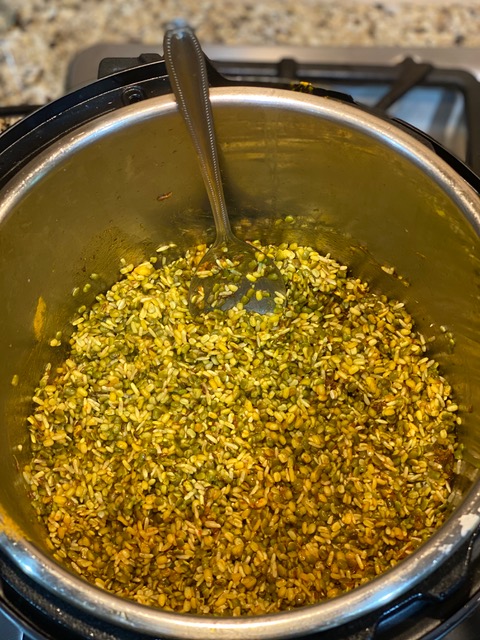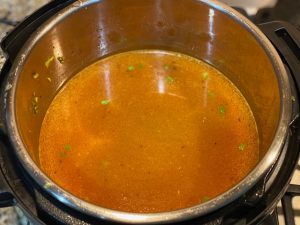 7. Close the lid. Make sure the pressure valve is turned towards 'sealing'. Put it on 'pressure cook' mode (high) for 12 minutes. Let the pressure release naturally before opening the lid.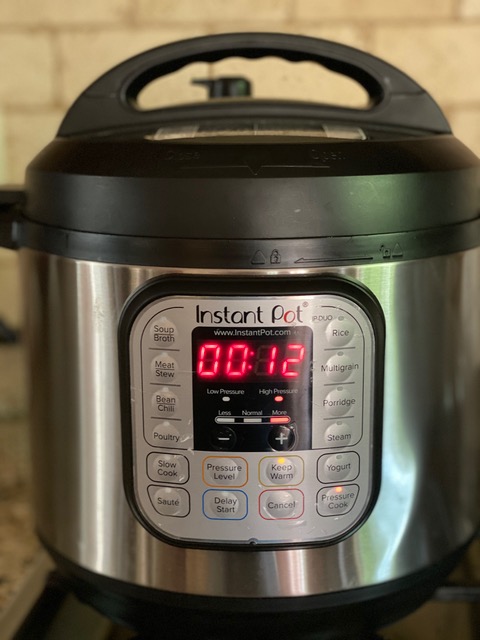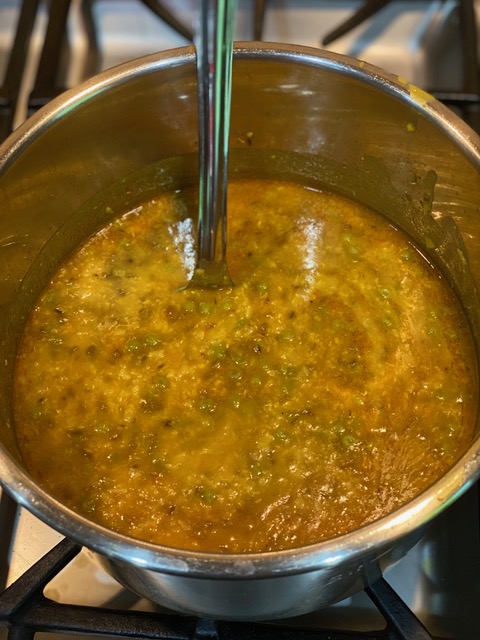 8. Add chopped cilantro as a garnish (optional). Serve hot with a side of plain yogurt and lime wedges.
Please note that the above recipe was made using a 6 qt Instant Pot. If you have the 3 qt size, you may want to make half the recipe, so it fits the pot. Also, it is normal for the consistency of khichdi to get thicker as it cools down.
Nutrition Information per Serving (excluding yogurt)*
Serving Size
1/6 th of the recipe, approximately 1.5 cups.
Calories – 260
Fat – 10 grams
Protein – 12 grams
Carbohydrates – 32 grams
* Calculated using MyFitnessPal recipe analyzer, www.myfitnesspal.com/recipe/calculator
Don't miss another great blog: Subscribe Now