My name is Caroline Johnson, a gracious and eager intern with Eat Smart, Move More, Weigh Less. I am a distance ed student with Appalachian State University, a full-time employee, a wife, and a mom to two adorable dogs. Considering the current balancing act that is my schedule, it is easy to see why I am a big fan of make-ahead meals and eating leftovers for dinner!
I'm not talking soggy salad, dry meat leftovers. I'm talking leftovers that are really tasty, energizing and keep me on track with healthy eating no matter how hectic my schedule becomes. I know many people are in the same boat as me and are pushed for time, so I thought I would share a few of my current, favorite staple foods that make great leftovers.
I found a great vegetarian recipe on the Whole Foods website for Curried Chickpea Salad, which I absolutely love. Even with the veggies already sliced, this salad will keep well in the refrigerator for a couple of days. I like it best stuffed into a pita with spring greens or chopped romaine.
Another great salad recipe is the Cranberry Pecan Rosemary Chicken Salad from the Plum Pie blog. This stuff is delicious. The fresh rosemary is a nice addition and makes this taste different than other traditional chicken salad recipes I've tried. I did make one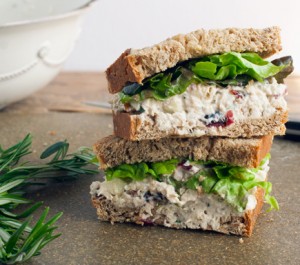 healthy modification by using boneless, skinless chicken breasts. Another tip: add in the cranberries right before serving or else they will give the salad a cranberry hue as they sit and meld with the other ingredients. This salad also keeps well in the refrigerator for 2-3 days. Try it cold on whole grain bread with lettuce, on a grilled sandwich, or over your usual salad greens with a cup of soup on the side.
This Quick Three-Bean Chili recipe from Food and Wine is my favorite chili recipe, hands down. It's simple to prepare and will keep in the refrigerator for 3-4 days with its flavor only improving over time. I skip the bacon and it still tastes great. My favorite way to enjoy this is with a dollop of Greek yogurt on top and a hunk of crusty whole wheat bread on the side. Yum!
Last but not least is the Easiest Crock Pot Salsa Verde Chicken from the Skinnytaste blog. I have made chicken in the crock-pot like this before using BBQ sauce or regular tomato salsa, but the tomatillos in the salsa verde keep this tasting fresh even when you reheat. This is a nice mid-week option, because you can dump all of the ingredients into the crock-pot in the morning, press the button, and go. When you come home, shred the chicken with a couple of forks and try some in a couple of corn tortillas with black beans and avocado.
With a little advance preparation and meal planning, healthy eating can still be possible for those of us who are always on the go. Hopefully, you will enjoy these recipes as much as I do!