March is here and that means it's the start of National Nutrition Month. One simple way to eat smart this month (and all year!) is to meal prep. There are many different approaches to meal prepping, but the important thing is to find a way that works for YOU. Meal prep not only saves time, but also saves money because less food is wasted. Meal prep can range from preparing each meal for the entire week to preparing ingredients used in each meal. However, the key to meal prepping is to have a plan- from the grocery store to the kitchen. Here are some tips to help navigate the world of meal prep: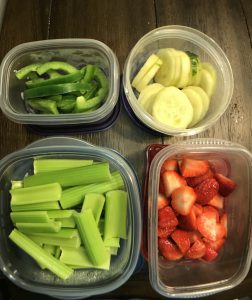 Keep it simple. Meals prepared ahead of time do not need to be fancy or complicated. Something as simple as roasted chicken and vegetables can be a very satisfying meal. You can even plan meals to reuse and repurpose leftovers. Use leftover grilled salmon on a salad the next day or repurpose leftover roasted chicken into chicken salad.
Check your pantry and incorporate ingredients that are already on hand. This can be helpful to reduce food waste and save money at the store. You may be surprised at what you already have.
Multitask while in the kitchen. While vegetables are roasting in the oven, use that time to boil eggs or wash fruit. A couple hours in the kitchen on the weekend and dinners are done for the week! Even if all you have are a few minutes in the kitchen to slice up vegetables and fruit, it can go a long way towards staying on track all week long.
Use the right food storage containers. These can range from disposable containers to glass and come in a variety of sizes. I have found it useful to buy a range of sizes, ensuring all containers are clear so the food is visible from the outside. Mason jars can be really handy for all types of food. Check out these 5 Best Make-Ahead Mason Jar Meals.
National Nutrition Month© is a nutrition education and information campaign created annually in March by the Academy of Nutrition and Dietetics. The campaign focuses attention on the importance of making informed food choices and developing sound eating and physical activity habits. Click here for ideas on how you can get involved in National Nutrition Month.
Don't miss another great blog: Subscribe Now