The Mediterranean Diet
continues to be supported by the medical community, and as a result, continues to increase in popularity. In fact, it was recently featured on CNN and the U.S. News rated it a top diet of 2016.  The Mediterranean-style eating pattern has been shown to promote health and decrease risk of many chronic diseases. Eating the Mediterranean way is not only healthy, it is delicious and satisfying. Foods that you once thought of as too high in fat or unhealthy, including nuts, olive oil, olives, and whole grains, become an everyday part of your diet.
We are in the middle of a fantastic webinar series that focuses on the Mediterranean style eating pattern, called Steps to Eating the Med Way. Dr. Carolyn Dunn of NC State University began the webinar series with an overview of the Mediterranean Diet, and then each month breaks the diet down into easy-to-follow steps. Last month was focused on changing proteins – if you missed either webinar, I highly recommend watching the recording!
As I mentioned, the Mediterranean Diet emphasizes healthy fats. Nuts are an excellent source of healthy fat, fill us up quickly, and keep us fuller for longer– all the things you look for in a perfect snack. I have been adding nuts to my various meals and snacks throughout my week. I add almonds or walnuts to smoothies, top my oatmeal with pecans (or slivered almonds), toss my salad with a variety – anything from pistachios, slivered almonds, sunflower seeds, pecans (you name it!). The biggest difference for me has been my snack swaps. I now choose nuts as a snack and I find that I have more energy and I am more satisfied until I reach my next meal. The easiest way to snack on nuts is to buy the pre-portioned nut pouches. They are little more expensive, but I find that I actually grab them from the pantry while I'm running out the door instead of just having the good intention to choose nuts as a snack. My favorite pre-portioned nut pouches are from Trader Joe's, they are the perfect size and the perfect combo of different nuts (they also have single-nut options). The best part— it's an easy snack that doesn't need to be refrigerated, they don't get smashed easily in a purse, and they don't get stale quickly. Can I get an Amen!? I throw them in my purse (this has been a LIFE SAVER!), in my desk, in my lunch box, in my car – you name it.
And just in case you haven't heard enough about healthy fats and nuts, check out the recording of our most recent webinar (it's free), Steps to Eating the Med Way: Swap Your Fats & Snack on Nuts.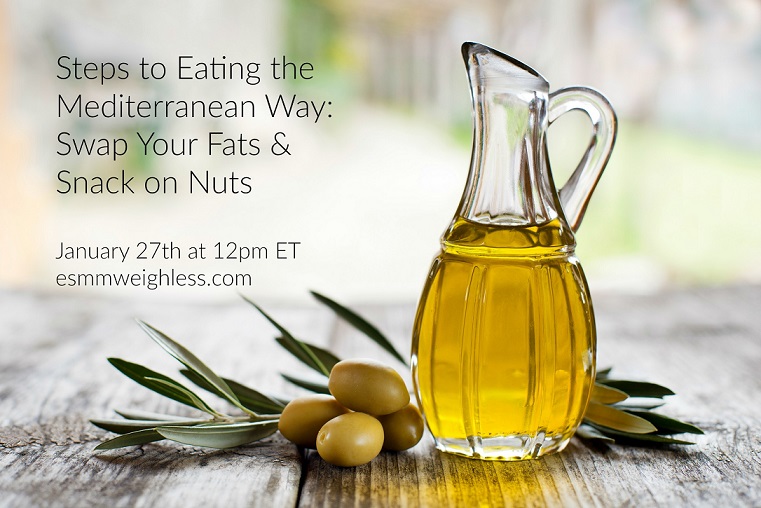 Don't miss another great blog: Subscribe Now