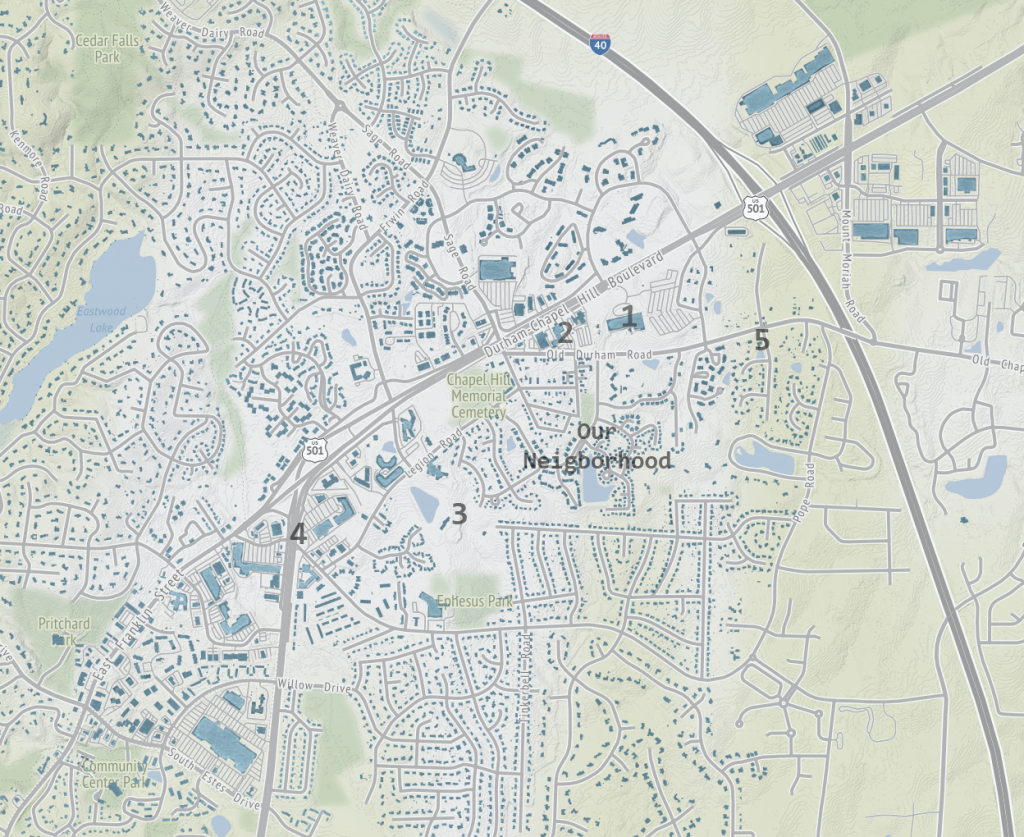 I have been aware, through my work, of the relationship between the built environment and health for a while now. We collaborate with other organizations to increase access to places for physical activity (e.g., parks and greenways), and support communities' work to develop transportation plans that promote biking and walking. I believe that this is some of our most impactful work, but it didn't mean much to me personally until about a year and a half ago.
My wife and I bought our first home in spring of 2015. We had our first kid a little over a month later. These two changes have led me to a lot of thinking about the built environment in and around our neighborhood. Will it be safe for my daughter to walk or bike to school? Will we get new parks and trails to explore? Will it get easier to cross the busy roads that make it difficult to walk to the places we want to go? Will spaces near us that have fallen into disuse be revitalized? Will the Triangle (Raleigh, Durham, and Chapel Hill) ever seem more like a single, connected city? The more I think about these questions, the more I notice that decisions to determine the answers are being made all the time:
We often use the trails and open space surrounding an unusual looking office building near us that Blue Cross and Blue Shield of NC sold to State Employees' Credit Union in 2015. A few months ago, a construction fence went up around the building. I'm sure the fence is there for our safety, but we used to have a lot of fun exploring that space. Hopefully, once the work is done, we'll be able to play there again.
We recently learned that the grocery chain, Wegman's will be opening a store next to our neighborhood. I've never shopped at Wegman's, but it sounds like they are great to buy groceries from and to work for. I'm already looking forward to walking to the grocery store. Hopefully, it's the first step towards a diverse commercial area that we can walk to.
The Chapel Hill Town Council recently voted to purchase a 35-acre property that sits directly between our neighborhood and my daughter's future elementary school. It sounds like the plan is to put a park there, since there isn't one on our end of town. Maybe the space will even serve as a bicycle- and pedestrian-friendly connection

The built environment includes all of the physical parts of where we live and work (e.g., homes, buildings, streets, open spaces, and infrastructure)*. The pyramid above illustrates the popular public health theory that an intervention's impact increases as the number and diversity of people it reaches goes up and the amount of effort required for individuals to participate goes down**. Changes to the built environment fall in the second level of the pyramid, "Changing the Context".

between where we live and her school.

The town of Chapel Hill is developing plans to rezone a commercial area near our neighborhood in an effort to "renew and transform an area characterized by strip malls, parking lots, confusing roadways and traffic congestion…The vision is to create a pleasant walking experience, and a mix of commercial uses, upper story residences and offices, bike paths and sidewalk cafes." This area abuts the 35-acres covered in example three. I really hope this development makes it safe and convenient for us to walk and bike to vibrant commercial and public spaces in our area and throughout Chapel Hill.
Finally, while researching example number one, I learned that plans for the Durham-Orange Light Rail Project have a station about a mile from our neighborhood! There are funding challenges, but if the project moves forward, it would connect our neighborhood (and many others) to UNC, Duke, and Downtown Durham and Chapel Hill. The project is expensive, and I want to learn more about it, but it seems like big step towards connecting the Triangle. I REALLY hope it moves forward.
Each of these examples has potential to improve health and quality of life for my family, our neighbors and our community, but in each case additional steps need to be taken for those improvements to become a reality. I know a little about how to get involved in the decision-making process, but I want to learn more. I've done a little to support positive changes to the built environment around my neighborhood, but I want to do a lot more.
**UPDATE: Sam Thompson ran and won a spot on the board of the HOA in order to get involved in the decision-making process and support the positive changes in his neighborhood.
Citations:
*Centers for Disease Control and Prevention (CDC). (2011, June). Impact of the Built Environment on Health. Healthy Community Design Fact Sheet Series. https://www.cdc.gov/nceh/publications/factsheets/impactofthebuiltenvironmentonhealth.pdf
**Frieden, T. R. (2010). A Framework for Public Health Action: The Health Impact Pyramid. American Journal of Public Health, 100(4), 590–595. http://doi.org/10.2105/AJPH.2009.185652
Don't miss another great blog: Subscribe Now