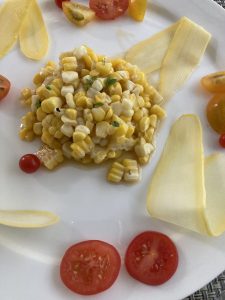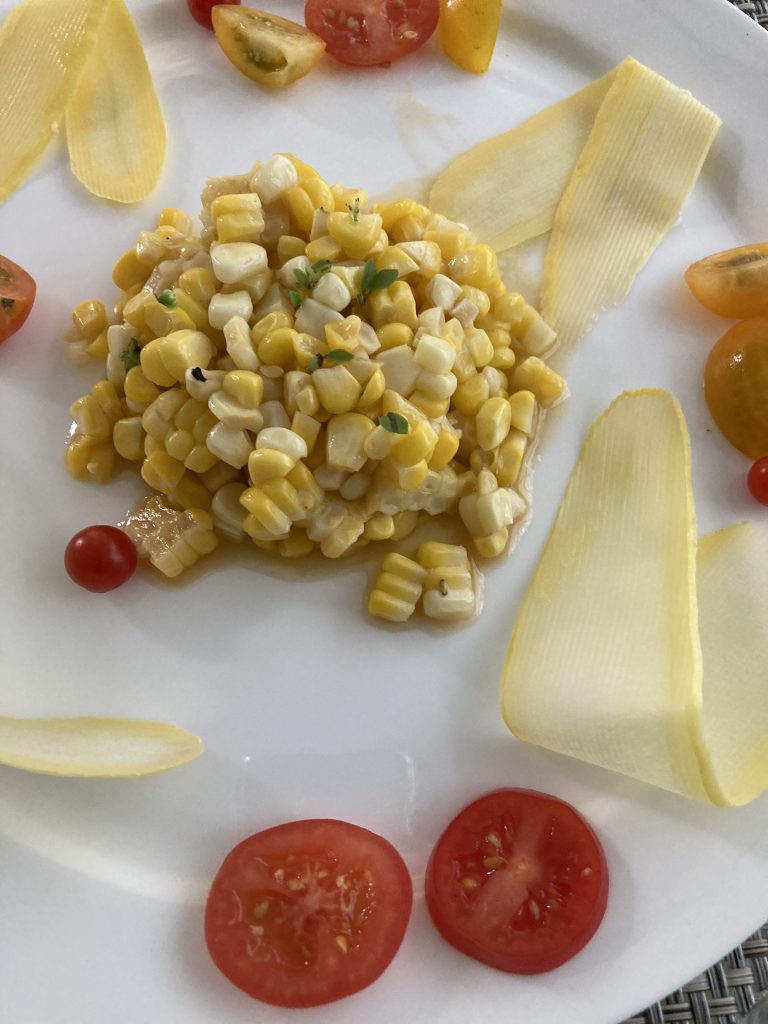 With all the fresh corn available you may be tired of just plain corn on the cob. I have been experimenting with using corn to make a cold summer salad. I like cooking the corn in the husk in the microwave. The corn comes out perfectly every time. I like a sherry vinaigrette but you could use any vinaigrette you like. Here is my latest version of this delicious salad.
Ingredients
4 ears fresh corn, unshucked
1 small zucchini or yellow squash
12 cherry tomatoes – a variety of colors is best
6 large basil leaves
Directions
Cook each ear of corn separately in the microwave for 4 minutes.
Use hot mit to remove and cut off end. Grab the silk end and shake, the corn should come out without any silks. See a video here.
Cut the corn off of the cob and toss with vinaigrette.
Use a vegetable peeler to make squash ribbons.
Plate according to picture.
Nutrition Information per Serving
Serving Size: 6.5 ounces
Calories: 170 calories
Total Fat: 8 grams
Sodium: 70 mg
Carbohydrates: 23 grams
Fiber: 3 grams
Sugar: 3 grams (Includes 0g Added Sugars)
Protein: 4 grams
Don't miss another great blog: Subscribe Now