Searching for the best hummus recipe ever? Search no more, I have found it. Traditional hummus is made with chickpeas (garbanzo beans). This recipe uses white beans. It gives it a great mild flavor that lets the blast of lemon come through. It is super easy to make. Serve with carrot and/or celery sticks for a great snack or lunch. This is a great way to add more healthy beans to your eat smart, move more, weigh less way of eating!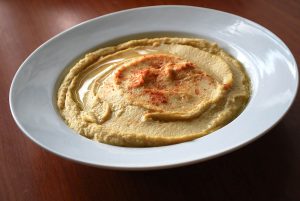 WHITE BEAN HUMMUS
Dried White Beans (great Northern beans or other white bean) 3 cups (can used canned, see note below)
Lemon juice ½ cup (more if you like lemon)
Olive oil to taste (can leave out for a lower calorie version)
Salt and pepper to taste
Water as needed
Tahini 2/3 cup
1. Soak the beans overnight covered in water.
2. Cook slowly (I use a slow cooker) until VERY done. They should be very mushy when you smash it between your fingers. Drain. (NOTE: you can used canned beans, drain well and cook until very mushy).
3. In food processor or Vitamix style blender, place all the beans and process with some of the lemon juice and olive oil (if you are using). Add water as needed to make a smooth mixture. Process well until very smooth.
4. Place the smooth mixture in a bowl an dass the tahini. Stir well and adjust with water for texture. Add salt and pepper to taste. 
Calories – APPROXIMATELY 20 per tablespoon