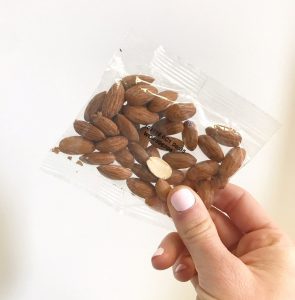 Nuts are a staple in my family. A nut bowl was always at my house growing up particularly around the holidays. You could pick up an actual nutcracker and spend time cracking and cleaning for the perfect bite of nut. It was a great tradition, albeit time-consuming. It did make for some mindful eating as you could only eat so fast.
Now that research keeps piling up about the healthfulness of nuts, makes me want to bring back the nut bowl. However, I doubt that we will take the time to crack our prescribed 2-3 ounces of nuts a week.
Trader Joe's to the rescue. They offer snack size almonds in individual bags at about the same price you can buy almonds in bulk. They come in roasted and raw unsalted. At about 200 calories, it is the perfect addition to your lunch or a snack before the gym.
If you don't live near a Trader Joes's you can make your own snack bags so they are ready to grab and go and/or you can order online from Amazon, but they will be more expensive than from the store. Other brands have snack-size nut packs as well, just make sure they are low in salt and do not contain added ingredients. Throw them in your lunch bag, desk, car, or purse to have on hand when hunger strikes.
Don't miss another great blog: Subscribe Now