We are excited to introduce our guest blogger, Doranna Anderson. Doranna is the Comprehensive Cancer and Control Program Consultant for the Cancer Prevention and Control Branch at the NC Division of Public Health.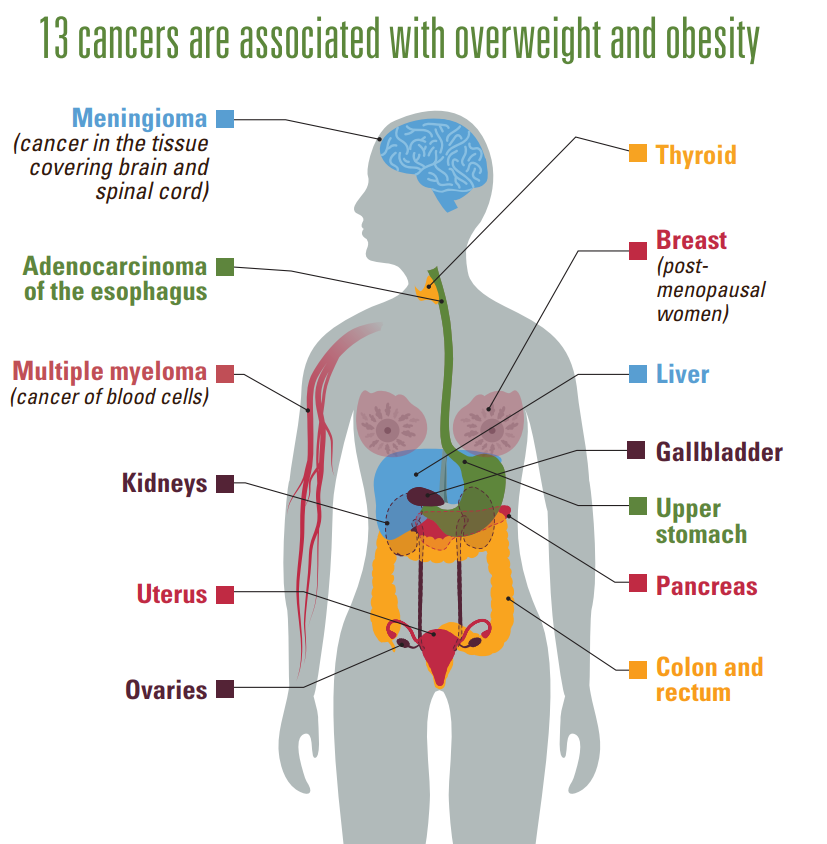 Cancer and Obesity: How to Reduce Your Risk
Recently I read a new Centers for Disease Control and Prevention (CDC) fact sheet about Cancer and Obesity (in Spanish El cáncer y la obesidad). I found it very interesting and was surprised to learn how those extra pounds could increase my chances for 13 different types of cancers.
I did find it encouraging to read about what is being done by individuals and the community to promote healthy eating and physical activity to reduce our cancer risks. I encourage you to take a moment to learn what you can do for yourself, your family and your community to reduce cancer risks.
During this time of year, it is easy to get caught up in the hustle and bustle of what we need to do and gifts we need to buy. I started thinking about the best gift we can give to ourselves – our health. If we have good health we can do everything we want to do. I thought about some of my family and friends who have been diagnosed with cancer and received or are going through treatment.  Thankfully most have survived. What better motivation to maintain a healthy weight or be inspired to lose weight to reduce my risk for cancer.  Then I can continue to do the things I love and be there for my family and friends through challenging times.
Thank you to the Holiday Challenge for motivating us during this special time of year and hopefully inspiring us to continue to eat healthy, be physically active, improve our lifestyle habits and maintain a good health status into the new year.
And in the new year, consider taking your health goals to the next level by signing up for Eat Smart, Move More, Weigh Less, an online 15-week weight management program. I will "see" you there.
Don't miss another great blog: Subscribe Now