Sheet pan meals are one of our team's go-to weeknight dinners. They are called sheet pan meals because the whole meal is made on the same pan at the same time – talk about easy! Sheet pan meals can be made up of only vegetables or a combination of vegetables and meat. This is not a traditional recipe, but instead, we share our 6-step guide for how to make any combination of sheet pan meals. Dinner is served!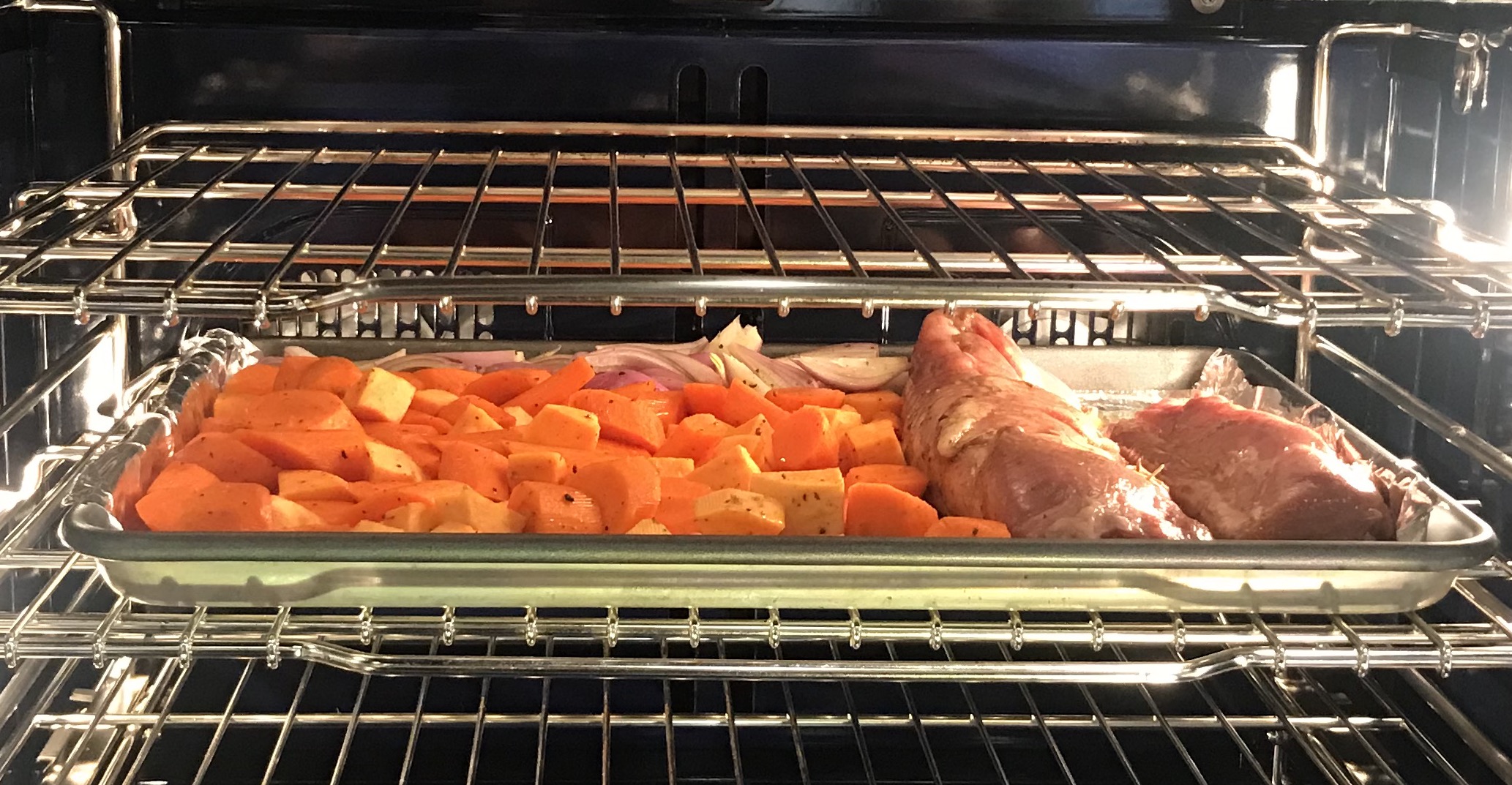 6 Steps to Make a Sheet Pan Meal:
Marinade the meat.

Any combination of an oil (we recommend olive oil), an acid (balsamic vinegar, lemons, limes, citrus), herbs and salt/pepper creates a solid marinade.
Pour the marinade into a bag. Add your meat. Close bag and let it sit for anywhere from 20 minutes – overnight.
Pork tenderloins and chicken work really well for this dinner. You can use beef or lamb but those are generally more expensive.
Vegetarian: The first step is to start cooking the beans/lentils/rice to go with your roasted vegetables (yes, this makes your one-pan meal into a one-pan + one-pot meal). Try brown rice, quinoa, bulgar, beans or lentils as a complement to the roasted vegetables. You could even turn them into tacos.

Chop up the vegetables.

Try a variety of vegetables, such as sweet potatoes, cauliflower, carrots, or broccoli.
Onions or shallots should be chopped in bigger wedges or slices so they don't burn.

Season the vegetables.

Use a bowl or Ziploc bag to help evenly coat the vegetables.
Olive Oil
Salt/pepper
Herbs or spices like rosemary, thyme, and cumin work well.

Cover the sheet pan with foil or parchment paper for easy cleanup.
Place the meat on one side of the pan and the vegetables on the other.

Don't overcrowd the pan, this will made the vegetables steam more than roast and they will take longer to cook.

Bake at 375 degrees until done. There isn't a set time because it depends on the meat and/or vegetables chosen.

Vegetables should be fork-tender.
Pork should be cooked to 150 degrees.
Poultry should be cooked to 165 degrees.
Please refer to this Cooking Temperature Guide if you use other meat.
You may also enjoy:
Quick Weeknight Dinner – Mexican Quesadillas
Top 5 Rules of Roasting Vegetables
Vegetable of the Week: Cauliflower
Don't miss another great blog: Subscribe Now