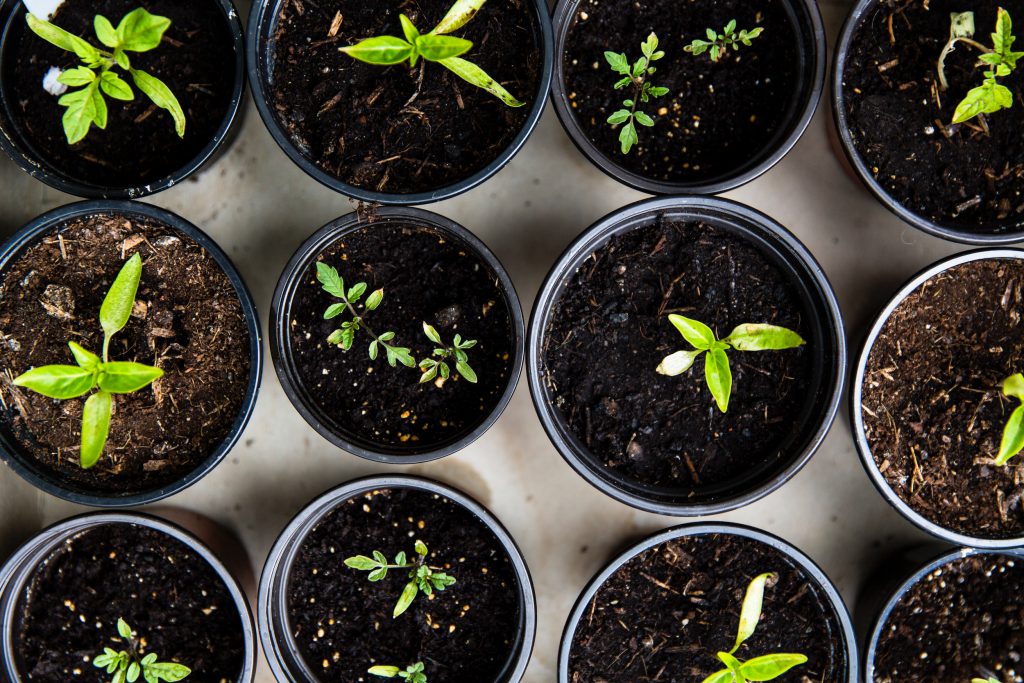 Growing your own herb garden can be a fun and easy way to add a little green around your home. The best part is that herb gardens can be grown just about anywhere-both indoors and outdoors! I have grown herbs in apartments, in pots on the back porch, as well as in ground and all have done quite well with minimal effort. Placed in a little sunlight and watered every few days, most herbs will thrive.
While different herbs require different amounts of sunlight, I think one of the most hearty and versatile herbs is basil. For the last few years, I have kept a basil plant or two around and enjoyed it for many months during the spring and summer. I like to add fresh basil to a variety of dishes ( like this Basil, Shrimp, and Tomato Pasta with Feta), but oftentimes I would find I had way too much basil than I knew what to do with. Then, I came across this recipe for pesto.
Pesto is a type of sauce that can be added to pasta, used as a spread for sandwiches or even mixed into salad dressing. This recipe is full of fresh flavors including basil, garlic, and olive oil. It is fairly simple to make and tastes delicious! One of my favorite ways to use this pesto is on a flatbread topped with grilled chicken.
Simple Basil Pesto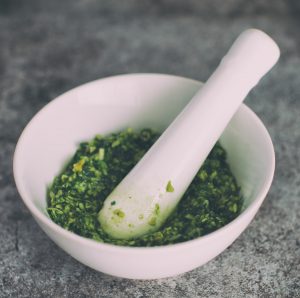 Ingredients:
½ cup loosely packed basil
6 garlic cloves, peeled
1/3 cup shredded Romano cheese
3 Tablespoons pine nuts
½ teaspoon salt
¼ cup olive oil
Directions:
Put basil in a mortar with garlic, cheese, pine nuts, and salt. Pound until smooth. Slowly add olive oil and mix until smooth. Alternatively, whirl all ingredients in a blender until smooth.
Nutrition information Per Tablespoon: Total Calories: 76, Fat: 6.5 G, Carbohydrates: 2.3 G, Sodium: 278 MG
Total time: 10 minutes
Recipe adapted from Sunset Edible Garden Cookbook
Don't miss another great blog: Subscribe Now