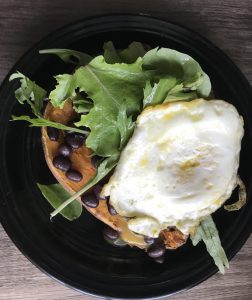 As someone who eats meat-free, I spend a lot of time thinking about how to make sure I get protein through healthy, filling options. This recipe is estimated to have only around 450 calories, yet packs 20 grams of protein! Plus, it allows for many adaptations to your personal taste.
Many recipes for stuffed sweet potatoes will call for you to bake them, which is great if you want to set and forget them in the oven for about half an hour while you do other things. But I often don't want to wait 30 minutes for my dinner, so I microwave them to cut that time down.
I like to use arugula because it has a wonderful peppery flavor. If you don't like it, you could substitute spinach or baby kale. If you have a lot of trouble liking greens, a great trick is to chop them up small before adding them so they mix in instead of being big, leafy bites.
This recipe serves four and is inspired by this Cheesy Black Bean Stuffed Sweet Potatoes with Arugula + Poached Eggs recipe
Stuffed Sweet Potatoes
Ingredients
4 medium sweet potatoes
1 cup black beans (you could substitute with chickpeas/garbanzo beans if you prefer)
2 cups arugula
1 tsp olive oil
1 tbs lemon juice (around half a lemon if using fresh)
4 eggs, cooked as desired (poached or with runny yolk is highly recommended)
salt & pepper
Directions
Wash your sweet potatoes with a produce scrub brush and pat to dry. Pierce the sweet potatoes several times. Put sweet potatoes on a microwave safe plate and microwave for 5-10 minutes (around 5 minutes for one medium sweet potato, adding about two minutes for each additional), rotating them halfway through.

I like to put on an oven mitt and test them at the end of the cook time to see if they need a couple more minutes. With heat protection on your hands, you can gently squeeze the potato and see if it is still hard, or if it is soft like you want a baked potato. You can also test with a fork and see if it pokes easily.

Meanwhile, toss arugula (or other greens) with the olive oil and lemon juice, adding a pinch of salt and pepper. Set aside.
When the sweet potatoes are done, carefully slice down the center of the potato and push open. Divide the black beans equally among each potato.

At this step, you should add any additional seasonings that you prefer to your potato and/or to your beans. I like to cook spices into my beans quickly in a small saucepan so that the raw taste comes out. Use your favorite salt-free spices or seasoning blends! This recipe would go well with taco-inspired seasonings, Italian herb flavors, or whatever your favorite flavors are.

Divide the arugula evenly among the potatoes and top the beans with it.
Add your cooked eggs on top of the greens, one per potato.
Optional Add-Ons
Add some finely chopped bell pepper for extra crunch, vitamins, and flavor.
Add finely chopped onion for added flavor and a little more filling.
Cook a clove of garlic or a shallot into your black beans or add a pinch minced garlic to the dressing for the arugula/greens.
Top with fresh herbs such as parsley or cilantro.
Don't miss another great blog: Subscribe Now