If you grow your own basil during summer, you may have run into a situation when there is too much and you wonder how to use it. While I don't grow my own basil, I have been fortunate to have a friend who does and her garden has been blooming with fresh, fragrant, delicious basil.
I recently had a birthday and received a beautiful bouquet of basil. It stayed fresh for almost a week with the stems dipped in water.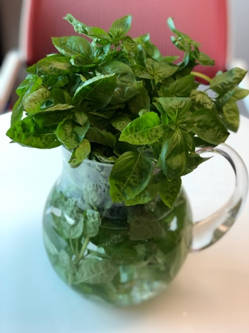 I was determined not to waste a single sprig so had to come up with a few different ideas to enjoy the delicious herb. Here are some ways you may want to use your basil when it grows in abundance:
Tomato and basil salad. If in a rush, just toss some chopped basil with tomatoes and fresh mozzarella cheese. Drizzle with some balsamic vinaigrette and sprinkle some crushed red pepper for a quick and delicious salad.
Caprese bites. If you have some time, assemble caprese bites. Place a few basil leaves in between a cherry tomato and a small piece of fresh mozzarella cheese on a toothpick. You can use pre-cut mozzarella cubes/pearls or cut small pieces from a slab. Drizzle with balsamic vinaigrette and enjoy.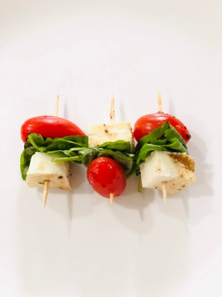 Pizza, pasta and soups. One of the easiest way to use fresh basil is to add it to your whole-wheat pasta dish, homemade pizza or soup as a topping.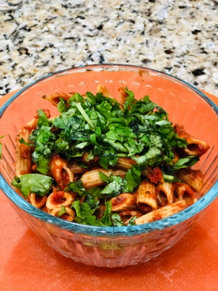 Pesto. Pesto can be made easily by grinding fresh basil leaves with garlic, olive oil, toasted pine nuts and finely grated Parmesan cheese in a food processor. See this Easy Basil Pesto Recipe. Pesto adds great flavor to wraps, sandwiches, salads and pastas and can be stored in the refrigerator for later use for several days.
Share with neighbors and friends. One of the most rewarding way to use your basil is to share with others so they can also enjoy the flavorful herb!
If you have other ideas for using fresh basil, share them with us in the comments section below.
Don't miss another great blog: Subscribe Now