The frozen meal section of a grocery store can be a bit overwhelming with all the different choices. Especially when trying to choose a healthy option! The Eat Smart Move More Weigh Less team has started this new blog series to help you navigate the frozen aisle by rating our favorite (and least favorite) frozen meals we eat. May the best meal win!
Amy's Indian Palak Paneer-Creamed spinach and cheese with rice and rajmmah dal.  Made with organic spinach, rice, and beans.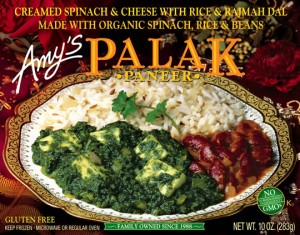 Calories: 300
Price: $4.99
Weight: 10 oz.
Upside: One of my favorite frozen meals! Delicious spices and great flavor. Lots of protein (12 grams) and fiber (6 grams). Less sodium than other Amy's meals. Gluten-free.
Downside: A little high in fat at 11 grams; however, it's mostly healthy fat. Pretty expensive compared to other meals.
Rating:
Healthy Choice 100% Natural Portabella Spinach Parmesan- Nine grain penne with baby portabella mushrooms, spinach, and tomatoes. Topped with Parmesan cheese.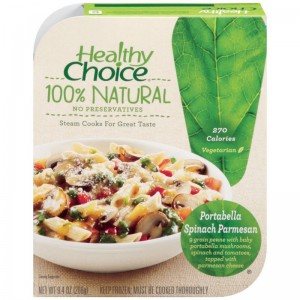 Calories: 270
Price: $2.89
Weight: 9.4 oz.
Upside: Lots of mushrooms. All natural and no preservatives in the dish. Well priced for this kind of meal.
Downside: Lots of excess water instead of a "sauce" for the dish and mushy noodles. It also had no taste or flavors of any kind and was quite a disappointment.
Rating:
Smart Ones Sesame Chicken (steamer bag)- White meat chicken with linguine and vegetables in a sweet and spicy sauce.
Calories: 360
Price: $3.99
Weight: 11.7 oz.
Upside: Good flavor and seemed like a significant amount of food for a frozen meal. The snow peas were tasty.
Downside: There was not much chicken. Nondescript Asian brown sauce wasn't really spicy – I added some. More expensive than the non-bag Smart Ones.
Rating:
Celentano Eggplant Parmigiana (no description on package).
Calories: 380
Price: $4.69
Weight: 10 oz.
Upside: Eggplant has a nice roasted flavor. Sauce is sweet and tomato-y. Tastes like eggplant parmesan from a generic pizza place.
Downside: Not very cheesy, and cheese was not well distributed. Eggplant breading is a bit soggy and not too flavorful. Eggplant skin requires a knife to cut, not necessarily bad, but I don't keep one to eat with in my office.
Rating: