One of the best things about colder weather is all the wonderful Winter vegetables. Butternut squash, acorn squash, sweet potatoes; they are beautiful and delicious. Here is a really quick and easy recipe that has a bit of heat to warm up your cold nights.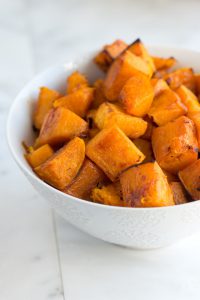 6 cups of any Winter vegetables, cubed – my favorite is a combination of acorn squash, butternut squash, white sweet potatoes, and regular sweet potatoes – I call it "squash, potato, squash, potato." 1-2 tablespoons olive oil 1 teaspoon salt 1 teaspoon cinnamon 1-2 jalapeno peppers, thinly sliced
Place the vegetables in a zip-top bag and add all other ingredients.
Mix well.
Turn out onto a baking pan or pizza pan that has been lined with foil and sprayed with non-stick spray.
Bake at 375 until the vegetables are tender and have a bit of color.
This is great warm from the oven as a side dish. You can also top it with an over-medium egg for a main dish. OR cool, it can be used as a salad ingredient, mix with arugula and balsamic vinaigrette.
Nutrition Information per Serving
Serving Size: 7.5 ounces
Calories: 120
Fat: 4.5 grams
Sodium: 10 mg
Carbohydrates: 22 grams
Fiber: 7 grams
Sugars: 4 grams (Includes 0g Added Sugars)
Protein: 2 grams