Take a look at photo. Yes, I can clean and jerk with the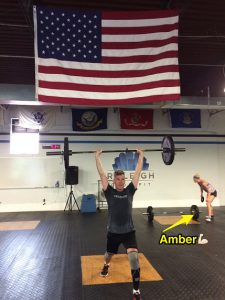 best of them. No, I don't claim to be one of the best of them— take a look at the Summer Olympics in Rio and you'll clearly see that I'm not in the elite category of weightlifters. Hey, 99.99999% of us are thankfully not in the elite category of anything! I personally don't care to be elite—- I tend to like company in all aspects of my life.
Please note my 'celebrate' – shirt under those weights and the American flag! I celebrate each day I enter the gym to build up lean muscle mass and attempt to stave off sarcopenia at the tender, yet exciting age of 50.
I hope you'll learn to love weight lifting as I did over a course of time. I used to hate to do it, but I loved to socialize with others at my Raleigh CrossFit box (crossfit's name for a gym). I now realize that weight-lifting is one of my strengths (no pun intended) in my healthier lifestyle changes as it helps me burn more calories while I am at rest.
So, drop what you're doing. Turn the Rio Summer Olympics off for a moment over the final hot weekend and hit the weights. We have great resources for strength and flexibility exercises at www.esmmweighless.com under TOOLS.