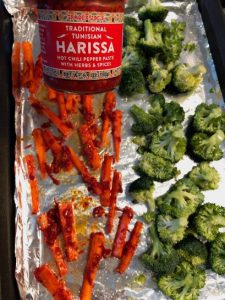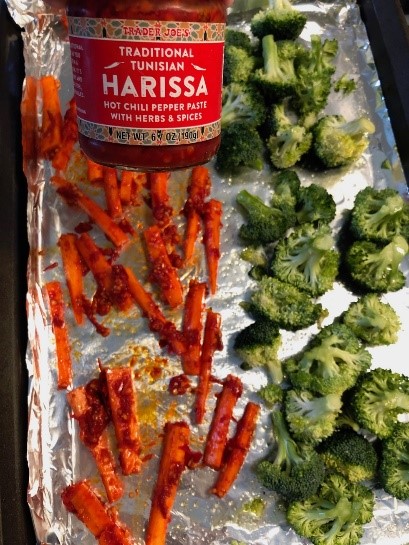 I learned of harissa paste a few years ago while browsing one of my favorite recipe websites, Smitten Kitchen, by Deb Perlman. She describes harissa as a Northwest African chile pepper paste with red peppers, spices, and herbs such as garlic, coriander, caraway. This condiment is used everywhere from Tunisia and Libya to Algeria and Morocco, which means you're bound to find many versions and uses for the pastes.
I love spicy condiments and was honestly getting a little tired of Sriracha. I had grand plans to make it myself, however, I never got around to sourcing all of the ingredients. So, I was thrilled when I saw it earlier this year in Trader Joe's. I wasn't sure what I should make first, but I decided on a recipe from Bon Appétit for Harissa-and-Maple Roasted Carrots. They were exceptionally easy to make and turned out spicy and delicious! Be warned if you attempt this recipe, reduce the oven temperature to 350 degrees otherwise the glaze burns up.
During the recent Snowmageddon in North Carolina, I busted out my harissa paste again. I didn't quite have all of the ingredients on hand to make the harissa-and-maple roasted carrots. I ended up creating a yummy "clean-out-the-fridge grain bowl" with roasted broccoli florets and harissa-coated carrots on top of couscous (see cooking directions below).
Next time you are at the grocery store (or Trader Joe's), grab a jar of harissa paste to elevate the flavor of roasted vegetables and give them a great smoky-spiciness! Or better yet make some yourself!
Harissa Roasted Vegetables:
Place an oven rack in the center of the oven
Preheat the oven to 350 degrees.
In a small bowl, mix a few spoonfuls of harissa paste and 2 teaspoons of olive oil.
Peel the carrots; quarter lengthwise, then halve crosswise.
Place on the foil.
Toss in harissa and olive oil mixture to coat; arrange in an even layer.
Roast 20 to 22 minutes, or until browned and tender when pierced with a fork. Remove from the oven.