Cupcakes have been the dessert trend for the past few years but finally, for the sake of our waist line, macarons are now the new trend. Macarons are dainty cream-filled sandwich cookies. Although not necessarily "healthy" they are certainly lighter and contain fewer calories that cupcakes. One macaron has from 70-100 calories, while one cupcake has close to 400 calories. Probably due to the fact that they are about one fourth the size of a cupcake, BUT this is great because it helps us with portion control. One and done!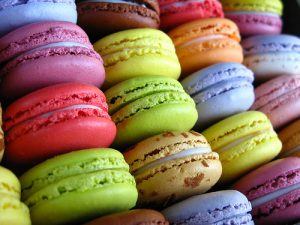 Macarons are not to be confused with their similar-name-sister-cookie, macaroons, which are coconut clusters with a crisp exterior and chewy texture. It's confusing, but they are very different cookies- you won't see a macaroon "wedding cake" in the near future. You might, however, see macaron wedding cakes, party favors, or an entire café dedicated to these French cookies pop up this year.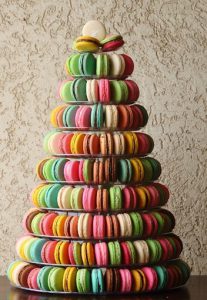 They are colorful and creative, allowing unique flavors such as lavender and vanilla bean or chocolate with orange ganache. They are extremely hard to make exactly right, and I think that's where the fun and the competition comes into play. Just remember to limit yourself to one or two in moderation, and enjoy these fancy little treats. Bon appétit!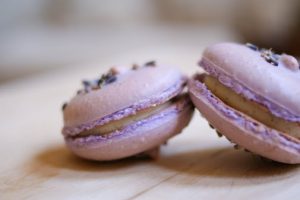 You might also like:
Top 10 Healthyish Things to Buy at Trader Joe's
Best Low Sugar High Protein Yogurt
Don't miss another great blog: Subscribe Now