Anyone else stuck at home and find themselves in the kitchen… often? You are not alone! Being at home provides us with constant access to all of our food and snacks, making it a bit more difficult to stay on track with healthy eating. One strategy for staying on track is to make the healthy option the easy option. Having healthy, and tasty, items on hand – like these Strawberry Lemon Chia Seed Muffins – makes choosing a satisfying breakfast or snack simple!
These muffins are packed with nutritious ingredients:
Chia seeds are an excellent source of heart-healthy omega-3 fatty acids, high in antioxidants, and a good source of fiber, iron, and calcium.
Oats are complex carbohydrates and digest slowly in the stomach, which can keep you satisfied for a longer period of time.
Strawberries are a great source of vitamin C and magnesium and help to add natural sweetness to these muffins. Bonus: they are coming into season in NC!
Each muffin comes in around 125 calories, 3g of dietary fiber, and 6g of protein. These muffins are sure to keep you satisfied!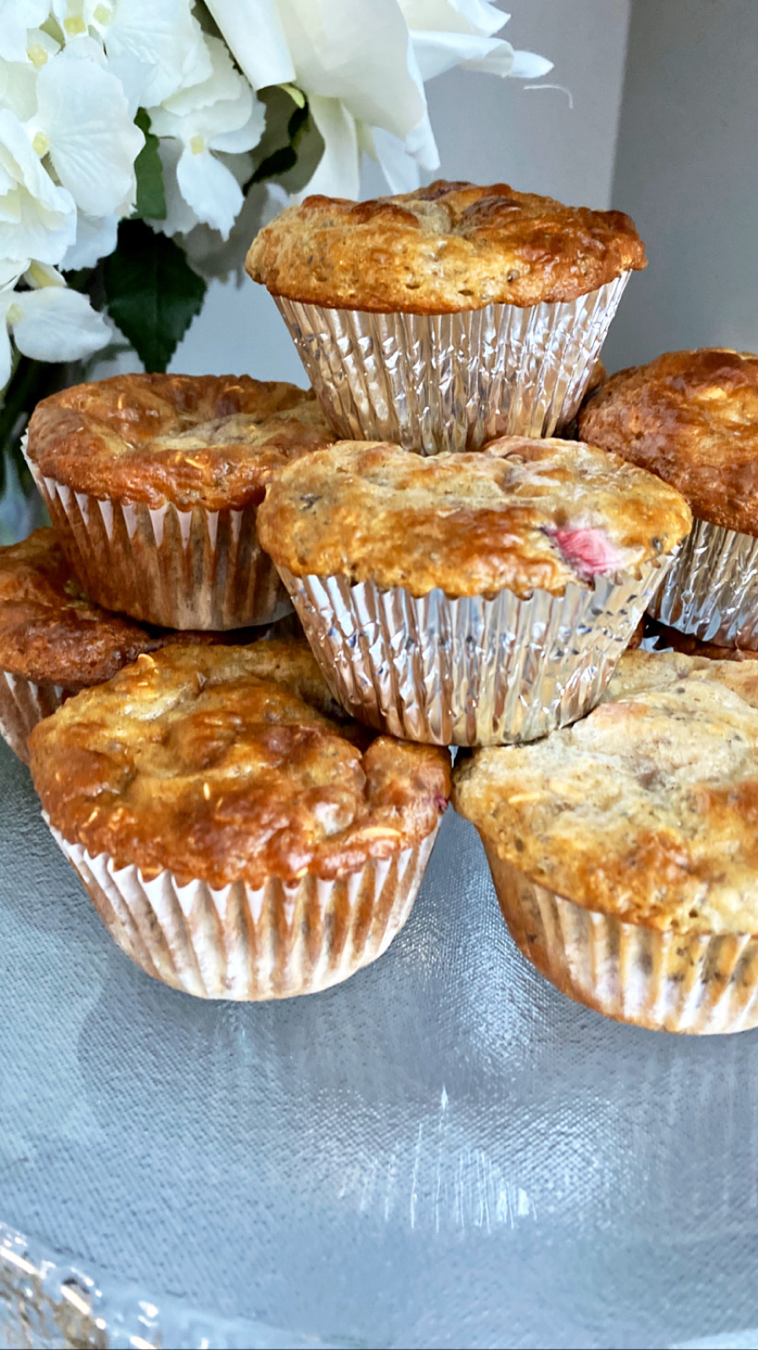 Strawberry Lemon Chia Seed Muffins
Yields 12 muffins
Ingredients
1/2 c plain low-fat Greek yogurt
1 large egg
¾ cup unsweetened almond milk (or any other kind of milk)
1 tsp vanilla
2 tsp lemon extract
1/3 cup sugar
¼ cup chia seeds
1 cup flour
1/2 cup oats
1 tbsp baking powder
1 tsp baking soda
1/2 tsp salt
2 heaping cups of fresh strawberries, diced (reserve ½ C to sprinkle on top)
Instructions
Preheat oven to 375.
Combine all yogurt, egg, almond milk, vanilla extract, lemon extract, sugar, and chia seeds together.
Add flour, oats, baking powder, baking soda, and salt to the same bowl.
Fold in 1 ½ cups of diced strawberries (reserving a ½ cup to sprinkle on top)
Line muffin tin and fill each with ¼ cup of batter.
Top with reserved diced strawberries.
Bake for 20 minutes.
Make extra!
Allow cooked muffins to cool and then individually wrap them in plastic wrap and place into a gallon freezer bag. Will keep for about 3 months.
Next time you need a quick breakfast or snack, remove from freezer bag and discard plastic wrap.
For microwave:

Wrap the muffin loosely in a paper towel and microwave in 20 second increments, rotating it, until warm.

For AirFryer:

Place muffin into the AirFryer at 320 degrees for 5 minutes, or until warm (this is the best method to prevent a soggy reheated muffin).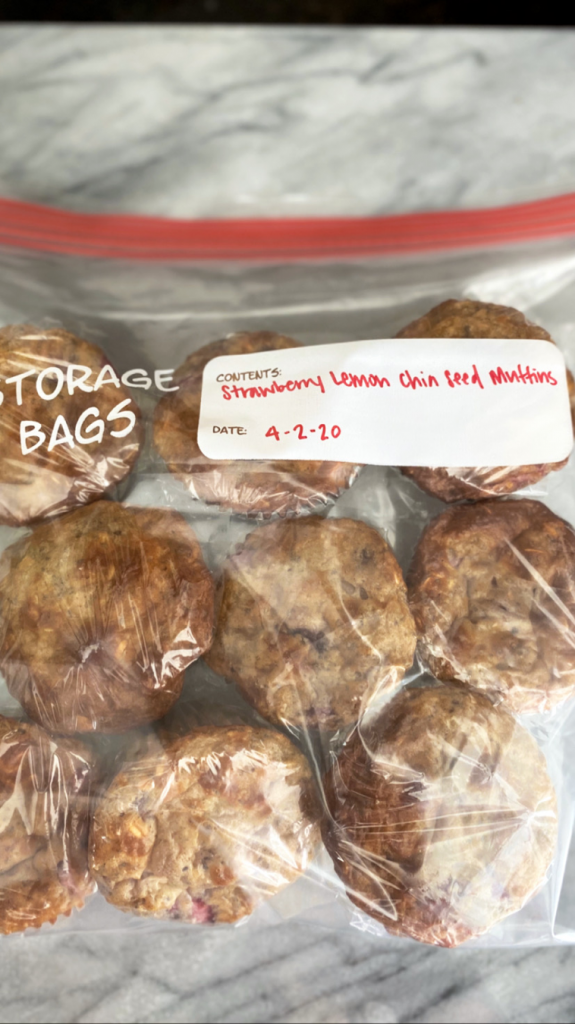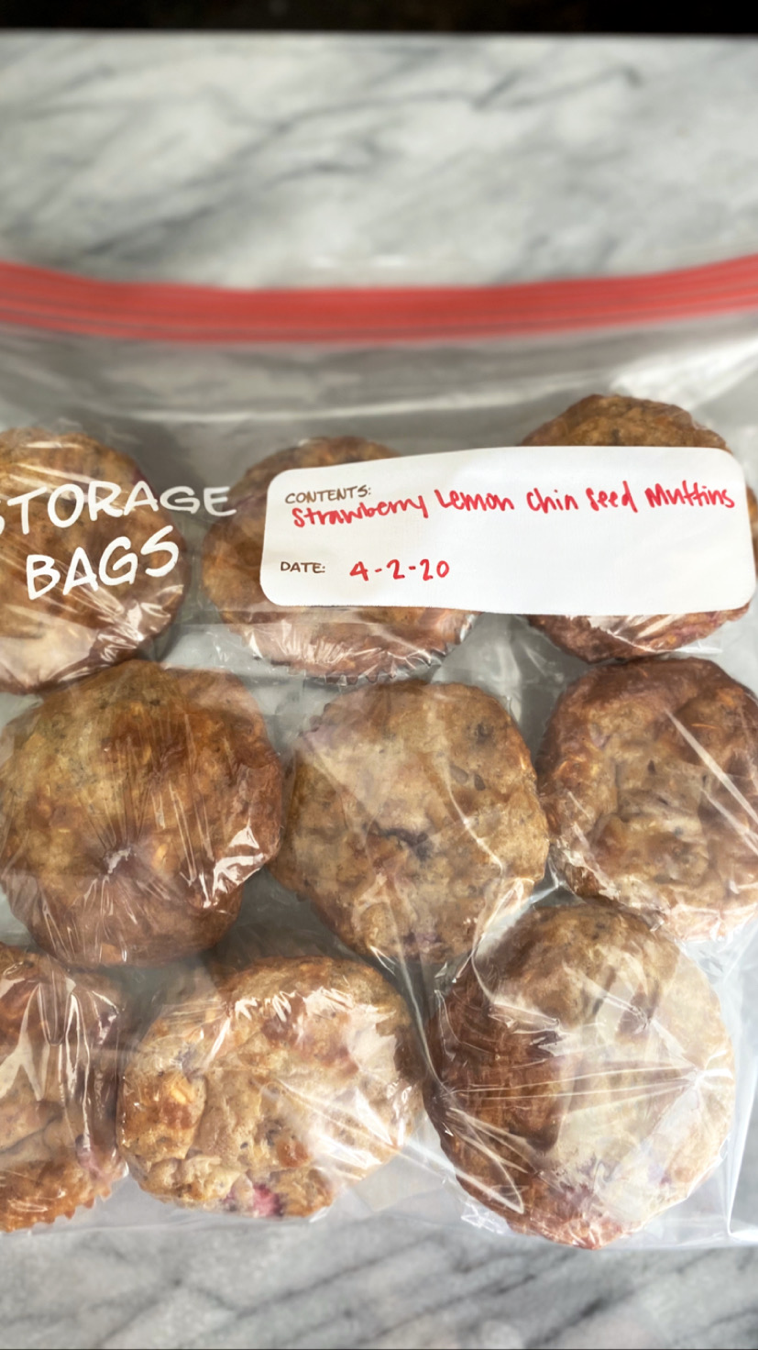 Don't miss another great blog: Subscribe Now