If you are like me, and most of your work is done in front of a computer, it can be hard to stay active during the 8+ hours you are at the office. Adding in a few extra steps and a few extra movements wherever you can will begin to add up. There are a few simple ways to increase your steps throughout your work day.
Start with parking a little further away, then reconsider how you get to your office –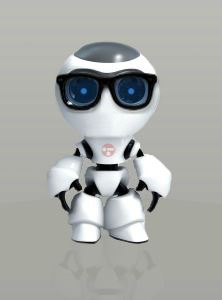 will you take the stairs or the elevator? During your work day, is there a printer you can use further away? What about a restroom on a different floor? While your lunch is heating up, take a few laps around the office. While you are refilling your water bottle, do a few calf raises. Instead of sending an email or using the phone, go and talk to your coworker.
It's important for us to get up and move every hour. And that can be hard when we are sucked into a project or tight to a deadline, but just a minute or two will energize you and help you refocus. This is my favorite tool to use to help me do just that: ProtectYourVision.org. Set a timer (once an hour, every 20 minutes, etc) and when the time is up a little robot pops up on your screen to remind you. It's used to protect your eyes from staring at your computer screen, which is very important, but it is also a great opportunity to get up and move, stretch, or walk.
Need a few exercise ideas for your movement break? Here are unique "deskercises" we love, especially The "Weeeee" Desk Chair Wheel!
So with that being said, stop reading this blog and let's all get up and move!