Two of our most popular blogs are on FitBit (over 5,000 views!) and Nike FuelBand, so I think it's time I write about my experience with JawBone.
When I was researching fitness trackers,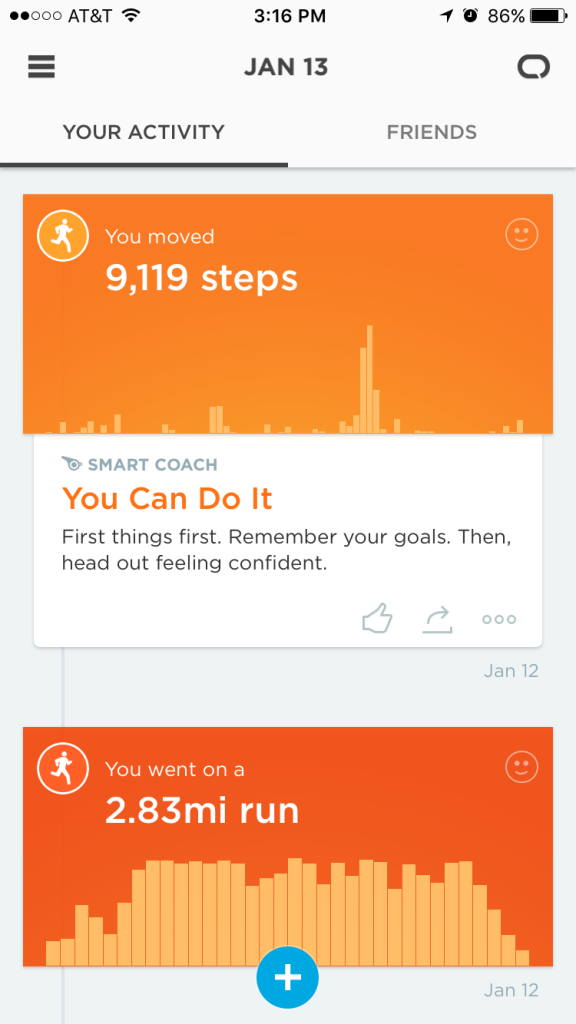 I was mainly focusing on price and ease of use. I settled on an older version of JawBone that was on sale and much less expensive than some competitors since I was buying one for my husband and one for myself. You know, a little team-building- or should I say competition. It had the basic functions I was looking for, to track my activity and sleep and connect to my smartphone. And it does just that. It logs all of my steps, tracks my sleeping patters, and I can easily plug it into my smartphone to see my progress.
My favorite things about my Jawbone:
It vibrates if I am sitting for longer than 45 minutes at a time. I love this feature! Sitting in front of the computer at work, the little vibrate reminds me I need to get up and take a lap or stretch for a few minutes.
I also love how it connects to MyFitnessPal. It makes it easy to log in my exercise on the app, and no more guess-work. It also motivates me to move more and to track on MyFitnessPal more.
It allows me to connect my husband's Jawbone to mine so we can see each other's progress. We can even create competitions with each other, such as who can reach 10,000 steps in a day first. This is fun- and motivating.
Least favorite things about my Jawbone:
Looking back, I do wish it had more features like a FitBit does. Fitbit has small lights on the device to show you your progress with the touch of a button. Some FitBits show you your heart rate and provide detailed reports.
Even though I can easily plug it into my phone, I find that can be time consuming as it is slow to load. It is also slow and sometimes glitchy when connecting to MyFitnessPal.
There are also more stylish options now available, ones that don't scream "I am a bulky tracking device".
Overall, I am happy with my Jawbone and for the price. It keeps me moving more and that is the main goal. My husband's broke is he is considering a different tracker. Do you use a fitness tracker? What do you like, or not like about yours? Share your thoughts in the comments.