Our guest blogger, Jill, shares her experience with the Fitbit Flex. It is a great device to help you track your physical activity, calories burned, and hours of sleep. Jill shares how this gives her awareness of her daily activity, but also how it could be improved. If you have a favorite activity-tracker we would love to hear your review!
I was having a fit to own the latest device from Fitbit. My best friend got the Fitbit Zip and enjoyed tracking her daily steps. She bragged on its ability to monitor her movements and enjoyed the display function, which let her know at any moment how close she was to reaching her daily activity goal. The Flex is the latest, greatest offering from Fitbit and is a wristband activity tracker similar to the Nike Fuel Band. It tracks daily steps, distance, and calories burned and connects wirelessly to personal computing devices (e.g., smart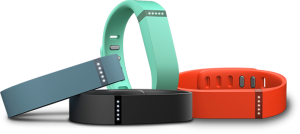 phones, laptops, abacuses). Unlike many ill-fated pedometers, I'd be wearing this on my wrist not my waist. So, I'd be far less likely to throw it in the laundry. After reading Fitbit's website and several online reviews, I was sure that the Flex was for me. How could it not be? Fitbit's website said that with the Flex, I would "make fitness a lifestyle".
Other folks must have wanted a new lifestyle too because my Flex was on back-order for a month. The day it arrived I eagerly read the instructions and found it simple to charge via a USB port.  I chose the black wristband although other attractive colors were available. The first time I reached my daily goal of 10,000 steps, the wristband vibrated to celebrate my success! It does this every time I reach my daily goal and has a display of small blinking lights to indicate how much progress I've made during the day.
With my online account I have access to a dashboard, which provides information on my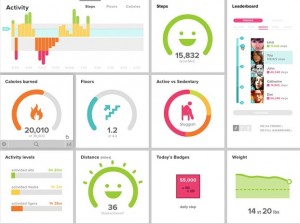 weight, calories, food plan, "calories in versus calories out" meter, friends, and a box called "premium". (I've never looked at the "premium" box b/c I'm sure it comes with a price tag. I already paid $100 for the Flex.)
Anyway, the dashboard provides useful information as do the various logs associated with my account. Food, activities, weight, sleep, journal, heart (rate), BP, and glucose are all tabs on the log menu where I keep personal information. I used the Fitbit food log for a week but found I liked Lose It! a lot better. Lose It! links to my Fitbit account and the two work in tandem to present information about my "calories in versus calories out". I really like the Fitbit online account and consult it on a regular basis to see my progress.
There are really only two things in the "cons" column.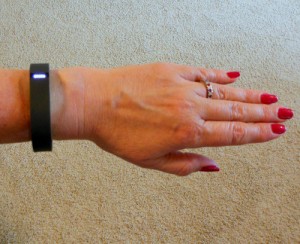 1. Although it's really comfortable once I'm wearing it, the snap is sometimes difficult to fasten.
2. The Flex hasn't caused me to "make fitness a lifestyle"; I still have days where I'm embarrassed to see how few steps I've taken. But I know it is a work in progress!
I really love my Flex and wear it daily. For anyone looking at wireless activity trackers, I'd suggest looking at the Flex because of the array of logs and dashboard functions, comfort, and ease of use!
Don't miss another great blog: Subscribe Now