I found the recipe for baked peaches floating around and around our Pinterest page and finally just got around to making it! Not that it was hard, or required special ingredients, but only because I would eat all of my peaches before I even had a chance to put them in the oven. Did I mention I love peaches?
And I thought I just loved raw peaches…. but BAKED peaches are my new favorite thing. As peaches are going out of season (hurry and grab what you can now!) I can't wait to try this recipe again with apples. How good does this simple variation for baked apples look?
The different recipes I found for baked peaches called for more butter and brown sugar but I wanted to make a lighter version- and I did not miss those extra calories! Below is the recipe-ish I made… I really just eye-balled things and went as skimpy on the butter and brown sugar as I could. And it was de.lic.ious.
This is how Pinterest made it look: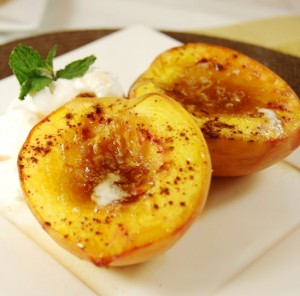 This is how mine turned out… not as pretty but just as yummy!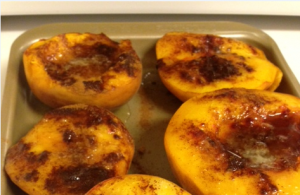 Baked Peaches (or Apples)
1 large peach
1/4 tsp. butter (per each half)
1/2 tsp. brown sugar (per each half)
Cinnamon to sprinkle
– Preheat oven to 375 degrees. Cut the peach in half, remove the pit and place on baking sheet skin side down. Add butter and brown sugar to center hole where the pit was. Sprinkle cinnamon to taste (I like a lot, especially if you are going with less sugar this is a great substitute for flavor). Bake for about 20 minutes or until a fork can easily pierce through center of peach (if baking apples it might take a little longer). And Enjoy!!
And next comes the apples….