Rachel shares some great tips to making your baked goods a little healthier. Something we can all appreciate during the cookie, bread, and pound cake- filled holiday season!
I love to cook and I love to play with recipes. I use a recipe exactly as written the first time I make it. After that I use it as a springboard to create something new. I am a much better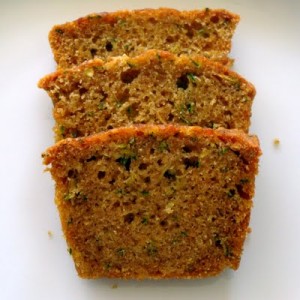 cook than a baker, but I am improving. A few years back I decided I wanted a nice pumpkin bread recipe that wasn't so sweet and gooey. I took a basic recipe and have been playing around with it. I have found some of these tricks work with other recipes as well, such as zucchini bread. Here are some things I have found from my experiments:
Reduce the fat – I am not a big fan of the texture of the bread when using fat substitutes, so I try to reduce the amount of fat instead. I looked for a recipe that used oil instead of solid fat so that it would be a bit healthier. Then, I was able to reduce the amount of oil slightly.
Reduce the sugar – This is really easy for most baked goods. I cut the sugar in half in the recipe I used and it tasted just fine.
Add seasoning – I added more spice to the bread. I find the spices to give the bread a much more interesting flavor than just sugar. For pumpkin bread I like to add cinnamon, nutmeg, clove and ginger.
Use egg replacer – I have had mixed results using a vegan powdered egg replacer or egg whites only. It can really change the structure of the food. I find that I mostly use the vegan egg replacer when I want to eat the dough.
Substitute white flour with whole wheat – in almost any recipe you can replace at least 1/3 of the flour with whole grain with minimal change to the final product. Some recipes can handle even more whole grain flour. The whole grains will change the color of lighter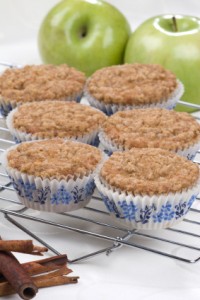 colored baked goods. If you buy whole-wheat pastry flour, the baked goods will stay quite tender.
Add a flavor punch or some texture – I like to mix something into my breads to make it a little more interesting. Some favorites are dark chocolate chips, dried cranberries (or cherries if you want to splurge), or top the loaf with sunflower or pumpkin seeds (out of the shell).
Increase the vegetable – I learned this trick when trying to use up many, many summer zucchini. I was determined that zucchini would not return to my refrigerator. As a result I doubled the amount of zucchini the zucchini bread recipe called for. This will add a lot of moisture to the bread and may increase cooking time. The result however, was amazing. The bread was so tasty and about melted in your mouth!
Play around with added nutrients – this is the part of the recipe I am still trying to get right. Sometimes I will add flax seed, wheat bran, or wheat germ depending on what is in the house. I think what I have learned is just a touch will do. No need to be heavy handed.
So, don't be afraid to improve upon some of your classic recipes. With all my experimenting, I don't think there was a dud in the bunch. We certainly enjoyed eating the variations and they have been good enough to share with others. In fact, one friend started making breads with double the veggies after her son, a notoriously picky eater, ate some at my house and loved it.
Happy baking!
Zucchini Bread Recipe:
Yield: 2 loaves or approximately 24 muffins
3 eggs 1 cup olive or vegetable oil
1 ¼ cups sugar 2-4 cups grated zucchini
2 tsp vanilla extract 2 cups all-purpose flour + 1 cups whole wheat flour
3 tsp cinnamon 1/8 tsp nutmeg
1 tsp baking soda ½ tsp baking powder
1 tsp salt ½ cup chopped walnuts or pecans (optional)
1 cup dried cranberries, raisins, or chocolate chips or a combination thereof (optional)
Preheat oven to 350 degrees
Grease and flour two 8×4 inch loaf pans, liberally or line 24 muffin cups with paper liners
In a large bowl, beat the eggs with a whisk. Mix in oil and sugar, then zucchini and vanilla.
Combine flour, cinnamon, nutmeg, baking soda, baking powder and salt as well as any of the optional ingredients.
Stir the dry mixture into the egg mixture.
Divide the batter into prepared pans.
Bake loaves for 60 minutes, plus or minus 10 minutes, or until a toothpick inserted into the center comes out clean.
Muffins will bake in about 20-25 minutes. Mini-muffins will take about 15 minutes.
Nutrition Information per Serving
Serving Size: 2.5 ounces
Calories: 210
Fat: 11 grams
Sodium: 5 mg
Carbohydrates: 28 grams
Fiber: 2 grams
Sugars: 15 grams (Includes 10g Added Sugars)
Protein: 3 grams