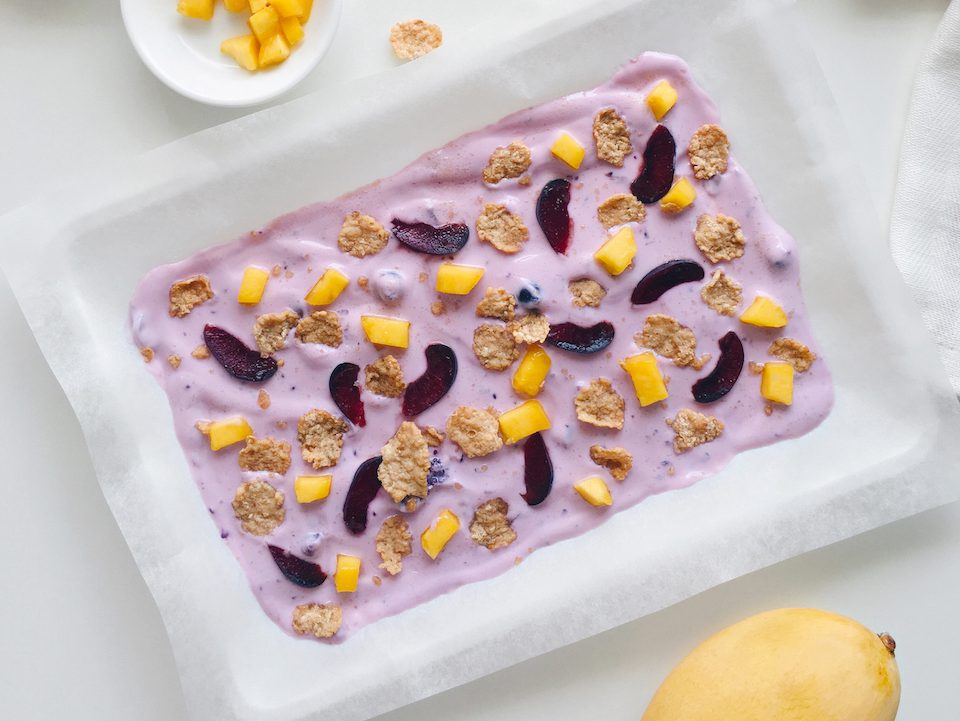 Recipe from NC Steps to Health
Ingredients
• 2 cups non-fat plain yogurt
• ½ tsp. vanilla extract
• ¼ tsp. lemon juice
• ¼ tsp. salt
• 1 cup strawberries, sliced
• 1 cup blueberries, whole
Directions
Line a baking sheet with wax paper and set aside.
In a large mixing bowl, combine yogurt, vanilla, lemon juice, and salt.
Pour the yogurt mixture onto the lined baking sheet and spread so that it is an even thickness.
Add strawberries and blueberries to the top of the yogurt.
Freeze until firm (roughly 2-3 hours).
Once frozen, cut the yogurt bark into pieces and enjoy!
The nutrition information below is for this specific yogurt bark recipe but yogurt bark can be very versatile! Try different variations by using different fruit, adding dark chocolate, nuts, or sprinkling with cinnamon to add more flavor.
Nutrition Information per Serving
Serving Size: 4.6 ounces
Calories: 70 calories
Fat: 0 grams
Carbohydrates: 12 grams
Sodium: 160 mg
Fiber: 1 gram
Protein: 5 grams
Sugar: 10 grams (Includes 0g Added Sugars)
Don't miss another great blog: Subscribe Now