SETTING A NEW GOAL:
Saturday, May 14th was a big day for me as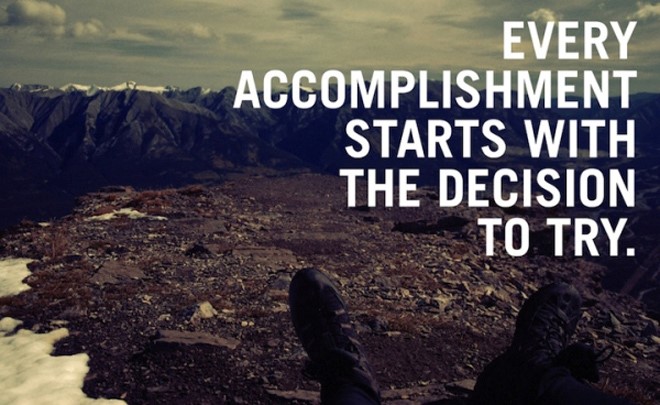 I was participating in my first road race ever, the Women's Red Run fundraiser 4K run/walk held in Charlotte, North Carolina. For me, it was the cause that attracted me to participate in it. Heart Disease is the number one killer of women and this was the first annual event that my Huntersville Family Fitness gym was hosting,  I decided to sign up for it for my health and to test my endurance.
Running was something that I had not done for quite a while now. It had been almost 20 years since I ran. The last time I remember running in a race/or even just running to be active was some time during my high school days in 1995-1996. I have tried running on treadmill about 5-6 years ago, but never seemed to like it because it made me exhausted and left me panting for breath. It used to leave me with aches and pains in my knees. A few minutes running would make me so uncomfortable. I enjoyed other group fitness activities such as Zumba, Body Jam, Dance workouts, Yoga, etc. I dreaded running because of the fear of injury. I needed some motivation to start running and this Women's Red run event was a perfect start for me. It was a 4K race, a short enough distance for a beginner and yet challenging enough to get me into running straight for 30 minutes at a stretch, comfortably.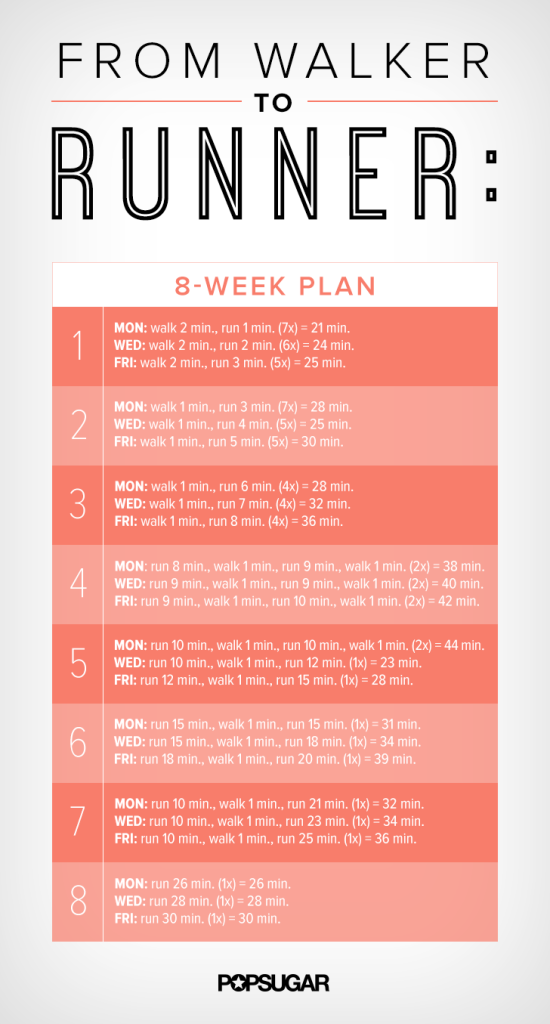 TRAINING :
It is true that a runner is not born over night. It needs weeks of training and building up muscles to make the body keep moving at a certain pace. Training for a race definitely helps build endurance and also helps prevent injuries. I had about 5 months when I registered for the event. It is very important to stretch before and after running. I was looking for some good training strategies for a beginner which are not too intense yet help you get to the goal of becoming a runner. It is best to start slow, listen to your body, and get your body used to any new movement. I found a training program online extremely useful in building my stamina and confidence. It was an 8 week plan to help you become a runner. Whether you are running outside or on your treadmill, this plan helps you run comfortably for 30 minutes at a stretch by the end of 8 weeks. It sure did help me.
I trained for almost 9 weeks before the race day. I loved this guide mostly because it builds up the endurance slowly and the running pace increases gradually from 1 min run to 30 minutes run at the end of 8 weeks. Since I had a gap of 20 years from running, when I started off with this plan I struggled to run for 1- 2 minutes at a speed of  4.4 miles/hour. I continued to run every other day just like planned and after a week, I could see the change in my stamina. I was able to run comfortably for 4-5 minutes at a stretch, and then 15 minutes at a stretch. What was more amazing was that I was able to improve my pace. I was able to run at a speed of 5.5 miles/hour straight for 15-18 minutes. As the race day was approaching I was able to run at speed of 6 miles/hour for 30 minutes. I had practiced running only on treadmill.
THE RACE DAY:
The race day was my first time running outside. I went in it with a clear and relaxed mind. I wanted to enjoy my first experience and have fun with all the other women who had gathered for the event. The day was beautiful and sunny. Once the race began I realized that it is not easy running outside at all. It is very different from training on a treadmill in a controlled environment. We were running uphill, downhill and on flat roads. The first 5 minutes of running outside was so exhausting that I felt like giving up and walking all the way but I pushed myself. Once I gained momentum I started enjoying the whole event. All the volunteers along the path of race were so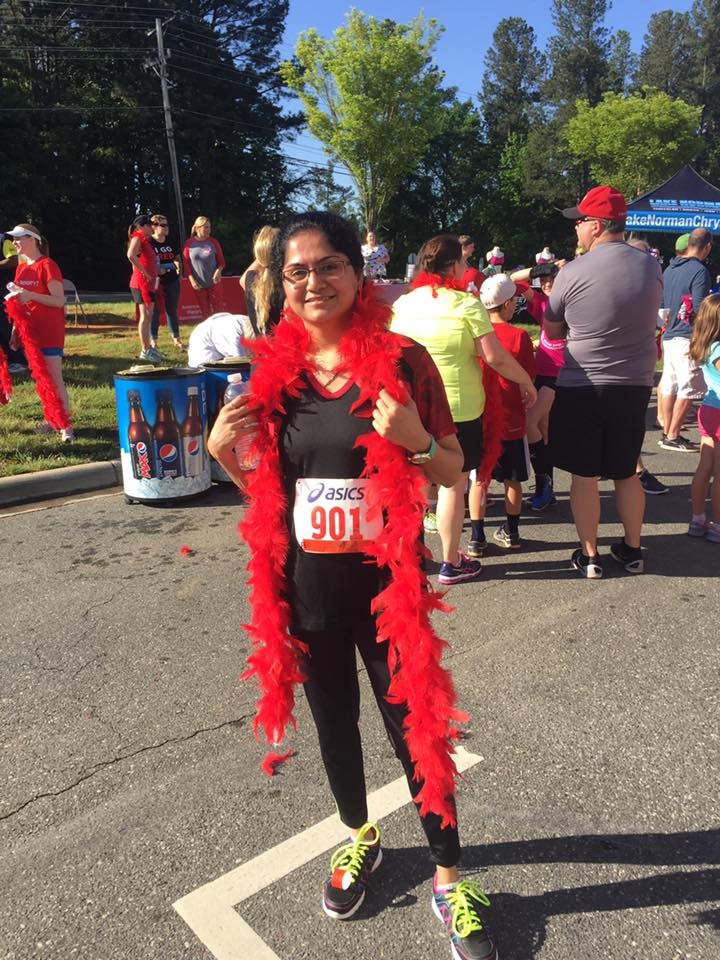 encouraging. We got a Boa garland, dark chocolate and water along the course to keep us pumped. I crossed the finish line 5 minutes earlier than my training time! I finished running 4K in 24.59 minutes  with  pace of 10.03 (minutes/mile) which is my personal record. I finished second in my age category. It was a great achievement for me. From a person who was afraid to run to crossing the finish line had increased my confidence tremendously. I absolutely did not feel any pain and more importantly had not injured myself. That was my biggest reason to feel great that day.
BENEFITS OF RUNNING:
If I can run, anybody can run. It is important to train well, wear comfortable shoes and clothing.  Crossing the finish line gives a sense of achievement and pride that one must experience for themselves. There are only positive health benefits that come from running. Cardiovascular health is improved because your breathing and heart rate increases, immune system is found to function better preventing illnesses, bone health is improved preventing the early onset of osteoporosis, running improves the lung capacity and promotes better breathing.  It sure is addicting. Like Oprah Winfrey once said " Running is the greatest metaphor for life; because you get out of it what you put into it."  It is definitely worth taking the first step: because if you don't then you will never cross the finish line. You might think running is not for me; I am not a runner. Taking that first step, training strategically, getting your body used to running slowly and staying motivated will help you become a runner and enjoy all the benefits of running.