It is that time of the year – Fall is around the corner and pumpkin flavors are slowly beginning to show up all around us. Personally, Fall is my favorite time of the year but pumpkin not so much.
While shopping for my Greek yogurt this weekend, I noticed that Chobani has put its Pumpkin Spice Blended Greek Yogurt on the grocery store shelves – being seasonal, it is a 'limited batch' product. Maybe it was the limited batch label that prompted me or maybe I was encouraged by my daughter who is always looking for new flavors that I put this yogurt in my cart.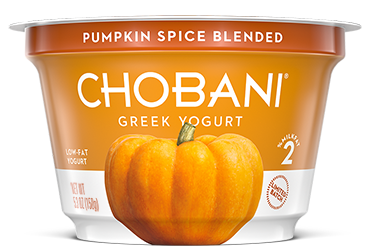 I am writing this blog to share that to my surprise I found this flavor to be delicious! Not being a pumpkin fan, I wasn't expecting much from this yogurt but it can be a good dessert choice if you are looking for pumpkin flavor. It gives you 12 grams of protein for 120 calories vs. a cup of pumpkin ice cream that can range from 300 – 400 calories.
The amount of added sugars is usually a concern for flavored yogurts. The nutrition label for Chobani products does not list 'added sugars' yet. Since yogurt has some natural sugars, I did this calculation by comparing the label to a Plain Chobani yogurt…it looks like there are 8 grams of added sugars in this particular flavor which is pretty decent for a flavored yogurt. Plain Greek yogurt with your own fresh cut fruits is always the best choice to keep the amount of added sugar under control. However, if that doesn't satisfy your palate and you are craving pumpkin this Fall season then give Chobani Pumpkin Spice Blended yogurt a try!
Don't miss another great blog: Subscribe Now