Reading the Nutrition Facts labels on foods is an important skill that can help us make healthier choices and stay within our calorie budget. Understanding the nutrients and ingredients in the foods you buy makes you a more informed consumer and gives you a better understanding of the foods you are putting into your body. The Nutrition Facts label contains lots of valuable information, but it can be easy to get lost in the words and numbers.
Here is your step-by-step guide to reading nutrition labels: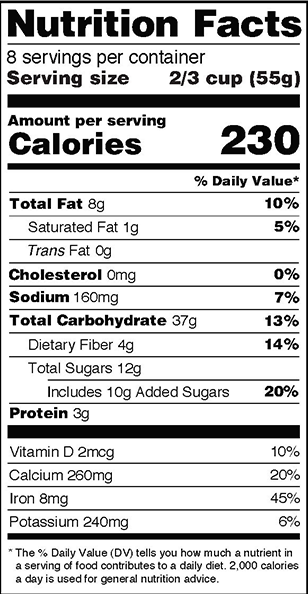 Start with the serving size. The nutrition information on the entire label is based on the serving size. While your actual portion might be bigger or smaller than the serving size on the label, it can serve as a general guide as you make meals and snacks. If you eat 2 servings of a food, be sure to double the calories and other values to adjust the information accordingly. Note: the serving size is not a recommendation of how much to consume, it is based on the amount an individual might typically eat or drink.
Check out the calories. This value gives the calories per 1 serving as listed on the label. As stated above, adjust this number based on the number of servings you consume.
Dive into the % Daily Values (%DV). These percentages are based on a 2,000 calorie diet, which may be less or more than your calorie intake. The % Daily Values are not one-size-fits-all numbers, but are useful guides when looking at the nutrient content of the food. As a general rule, a food is low in a nutrient if the %DV is 5% or less, and a food is in a nutrient if the %DV is 20% or more.

Look for 5% or less saturated fat, cholesterol, sodium, and added sugars. Trans fats do not have a %DV, and we should aim to eliminate these from our diet.
Look for 20% or more fiber, vitamins (Ex. vitamin D), and minerals (Ex. calcium, iron, and potassium).
Again these are not hard and fast rules, but useful to keep in mind when looking at the foods you eat. Not every food will be "perfect," but it is good to be mindful of the nutrient content.

Investigate the ingredients. The ingredients are listed in order of the most abundant to least abundant. When choosing whole grain bread, for example, the first ingredient should be whole wheat or whole grains.
For more in-depth information and explanations, refer to the FDA's How to Understand and Use the Nutrition Facts Label or check out the Interactive Nutrition Facts Label resource.
With practice, you can become an expert Nutrition Facts label reader and make more informed choices! Start by looking at the labels on the foods in your fridge and pantry today, and make reading Nutrition Facts labels a habit.
Link to this resource? https://www.fda.gov/media/135302/download
Don't miss another great blog: Subscribe Now