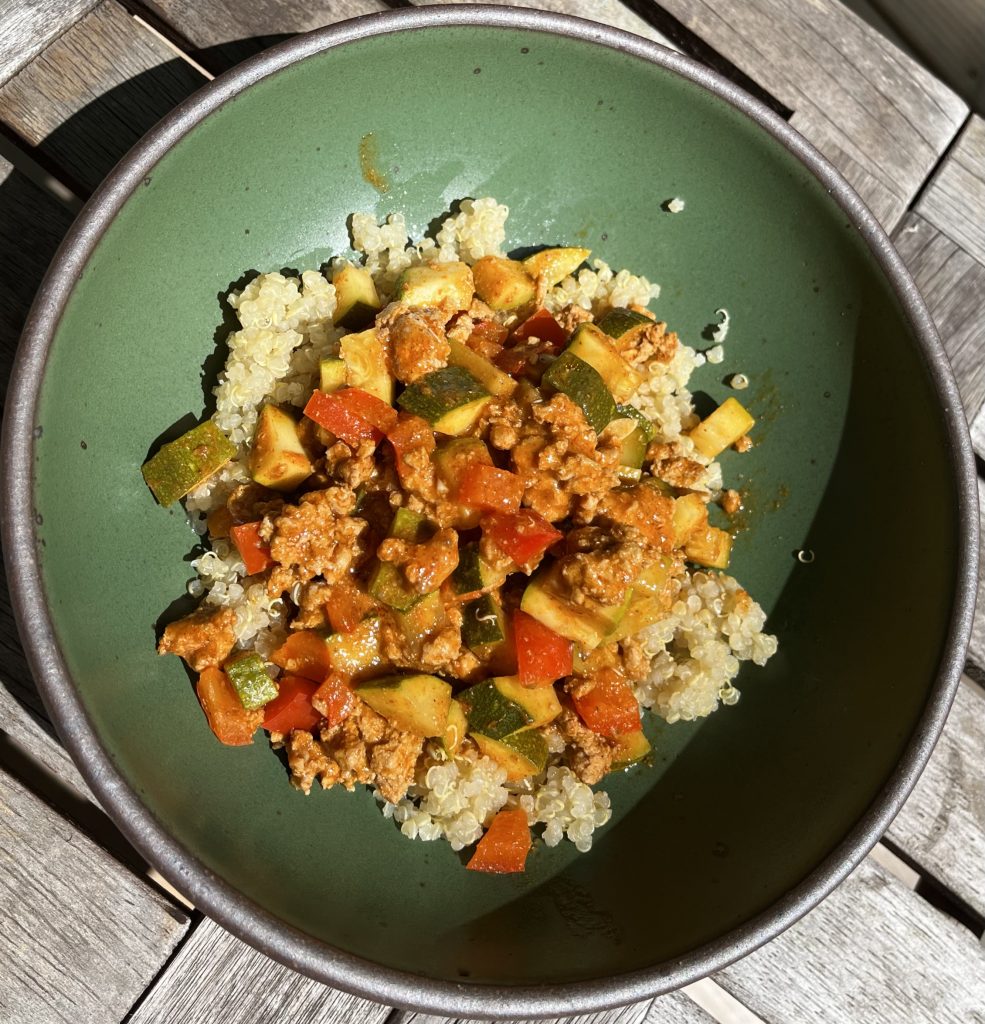 This recipe was inspired by a Home Chef meal my brother gifted me in exchange for dog sitting. It was so simple to make and delicious, that I knew I had to recreate this recipe. This meal comes together quickly in one pot if you have cooked grains like brown rice or quinoa already on hand. It is a great recipe for meal-prepped lunches or as a quick weeknight meal!
When re-developing this recipe I realized a few tweaks needed to be made. Part of the appeal of meal kit services is the pre-portioned ingredients but these don't always translate to commonly sold sizes at the grocery store. I have suggested using a whole pound of turkey and the entire 10-ounce can of enchilada sauce. Using the whole 10 ounces of enchilada sauce increases the sodium per serving more than we would typically recommend but it reduces food waste and increases the convenience factor. Because there is a whole pound of turkey you still may need to add salt to the final dish depending on your preferences. This recipe won't necessarily bust your daily sodium budget but it means you should be mindful of the sodium in the other foods that you consume throughout the day. The original recipe did not include whole grains but I have added them to round out this meal nutritionally.
Ingredients
2 teaspoons of olive oil
1 red, green, or yellow bell pepper (depending on your preference or what is on sale)
1 large zucchini
1 Roma tomato
1 pound of 93% lean ground turkey
2 tablespoons Taco Seasoning
10 fluid ounces of red enchilada sauce
2 cups cooked quinoa (or your preferred whole grain)
4 tablespoons of shredded cheese
Directions
If your quinoa is not already cooked, prepare the quinoa according to the package instructions.
Dice the bell pepper, zucchini, and Roma tomato.
Heat up a large skillet over medium-high heat and add 2 teaspoons of olive oil.
Add the bell pepper, ground turkey, and taco seasoning to the hot skillet. Stir occasionally until the turkey is mostly browned, this should take about 4-6 minutes.
Add the zucchini and occasionally stir until the zucchini is tender but still crisp and no pink remains on the turkey. The turkey should reach a minimum internal temperature of 165 degrees.
Stir in the enchilada sauce and combine until heated through about 1-2 minutes.
Plate the dishes by dividing the whole grain and the turkey mixture into quarters.
Add the diced Roma tomato and a tablespoon of shredded cheese on top.
*Nutrition information does not include any salt that you may add to the final dish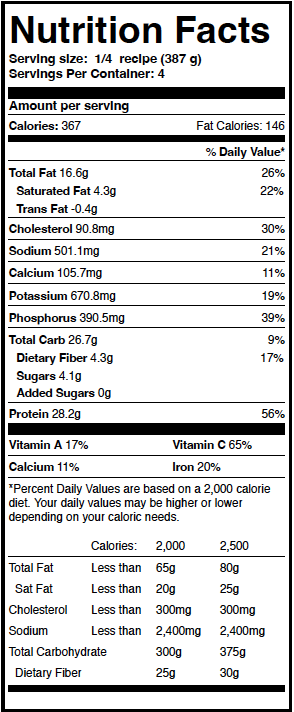 Don't miss another great blog: Subscribe Now