Stress, something that everyone would say they experience from time to time. Stress can be from anything; work, finances, lack of time, family, or other responsibilities can be stressors for people. Some types of stress can be good for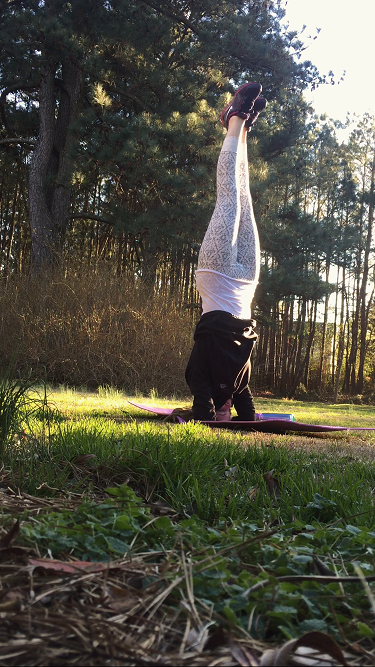 the body in ways that it challenges and spurs people on, but bad stress can take a toll on your body. Bad stress can impact your body, thoughts, feelings, and your behavior. Constant bad stress can cause headaches, fatigue, sleep problems, anxiety, irritability, over or under eating, and much more.  No one chooses to experience the effects of bad stress, but what do you do when you are experiencing stress?
People deal with stress in so many different ways. Some people completely avoid dealing with their stress and others want to take the time to address what may be causing stress. When I experience stress I enjoy exercising, but recently I have found that the challenge of inversions in yoga helps me refocus my mind and relaxes me.  Weird, right? I actually stumbled upon a Pinterest board one day that had pictures of all different types of inversions and from that moment I was hooked. I wanted to do those inversions that I saw in pictures. My desire to try something new, lead me to find out what helps me relax and de-stress!
I know that inversions and yoga may not be for you, but find something that you enjoy and do it! If it is blowing bubbles, going on a walk, drinking hot tea, taking a bath, or playing with kittens, you too can flip stress on its head! You might find what Greg is doing in CrossFit may be more relaxing than yoga, good!
You CAN overcome stress. Schedule times in your day or week to take a step back to relax.  Find what brings you joy and do it! Flip stress on its head!