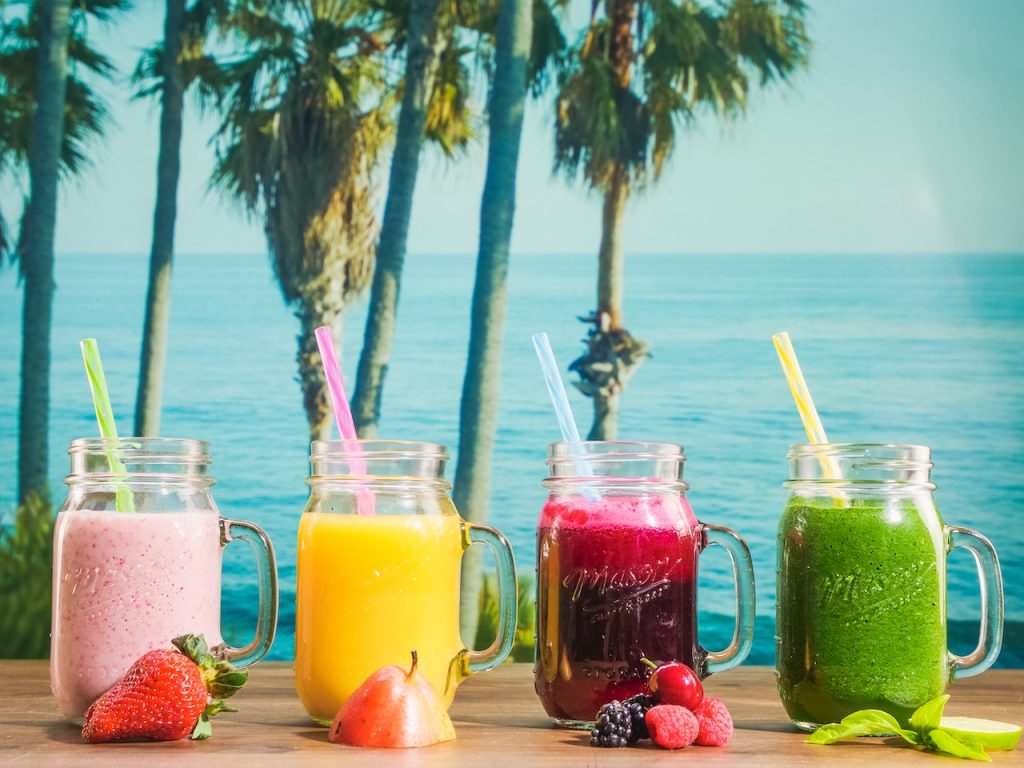 Today is National Smoothie Day! Smoothies may not immediately come to mind when you think of summer drinks, but they are cool and refreshing as well as being a great way to squeeze in extra servings of fruit and vegetables. Fruit contains vitamins, minerals, and electrolytes that will help refresh and energize you. Next time you are hosting a summer gathering–especially if it will be outdoors–try having a smoothie bar.
Prep Your Ingredients
If you are using fresh produce it is best to select in-season produce and use frozen fruit for out-of-season produce. For the fresh produce, make sure to give them a good wash under running water then cut into pieces. If you buy fruit or vegetables that are labeled as "ready-to-eat" or "washed" there is no need to rewash.
Select fruit and vegetables that pair nicely together–think bananas, strawberries, and spinach or peaches, mangos, and carrots. When selecting your ingredients be mindful that fruits with lots of seeds will add a bitter flavor, so you may want to avoid those. Placing the chopped fruit and vegetables in a muffin tin can be an easy way to display the various ingredients. Just be sure to refrigerate all cut, peeled, and/or cooked fruits and vegetables within 2 hours.
Get Blending
Add your preferred ingredients to the blender, then add your liquid of choice, and ice. If you are using some already frozen ingredients then ice is not necessary. For the liquid of choice, it is best to use water, low-fat milk, a small amount of 100% fruit juice, or even coconut water. If you want to make the smoothies more filling you can add protein. Good protein options for smoothies include dairy, nuts, and seeds. Greek yogurt is a good way to add protein and thickness to a smoothie. You can also add peanut butter or peanut butter powder.
It can be fun to let your guest create their own smoothies. Another idea is to whip up pre-made smoothie flavors so that people can mix and match. A fun idea for kids–or adults–would be to put a couple of scoops of each flavor in a glass to make a layered smoothie.
Serve & Enjoy
Relax, hang out with friends and family, and enjoy your refreshing summer drink!
Check out these smoothie recipes for inspiration:
Don't miss another great blog: Subscribe Now