Are you ready for some football (food)?? It's tailgating season again – I mean football season – so let the celebrations begin without losing sight of your weight loss efforts! Try these helpful tips whether you're out at the stadium or hosting fans at your home.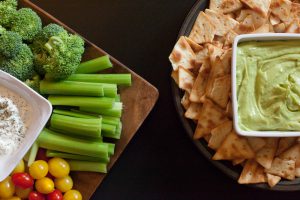 Eat a small nutritious snack before you arrive at the tailgate that consists of protein and fiber (like almonds or an apple) so you don't overeat. Follow it up with plenty of water!
Take a step back and look at everything before digging in. Use a plate and sit down instead of continually grazing – choose plenty of fruits and veggies, lean proteins, and low fat dairy.
Instead of cheesy and seven-layer dips go for hummus, low fat vegetable dip, or an easy salsa recipe and use baked chips or even celery sticks!
You can still enjoy your favorite traditional tailgate entrees, just opt for a healthier version like these BBQ Pulled Chicken Sliders, or low-fat turkey chili.
Get up and move – play fun tailgating games like corn hole or ladder ball. Pass a football with the kids, and walk to the stadium when it's game time instead of driving.
Tailgating should be a time of fellowship and friendship, so enjoy the atmosphere and use these simple tips to help you stay on track with your weight!