This has become a favorite cook-out side dish recipe and has a record of close to 10 consecutive appearances at summertime Nordby family cookouts. I usually serve this with Tostitos Scoops chips but can also be a star solo act. Double the recipe for lots of left-overs that go quickly in my house.
Ingredients
1 can (16-oz) kidney beans, rinsed and drained
1 can (15-oz) garbanzo beans or chickpeas, rinsed and drained
1 can (15-oz) black beans, rinsed and drained
1 package (10-oz) low-sodium canned corn
¼ cup minced fresh cilantro
1 sweet red pepper (chopped)
1 green pepper (chopped)
1 orange pepper (chopped)
2 fresh tomatoes on the vine (chopped)
2 green onions (chopped)
1 fresh avocado (chopped) – add close to the time of serving
2 garlic cloves, minced
¼ cup balsamic or red wine vinegar
½ cup olive oil
1 teaspoon chili powder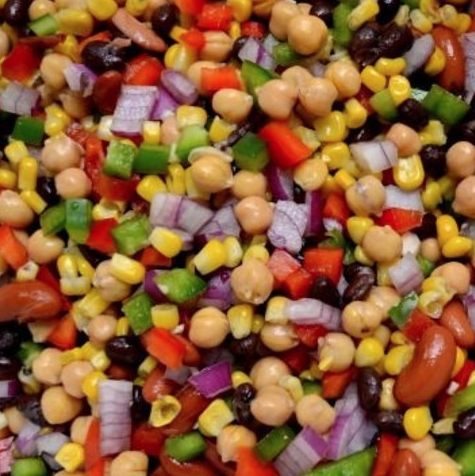 Directions
Drain and rinse the beans.
In a large bowl, combine the beans, corn, cilantro, peppers, tomatoes, green onion, and garlic.
In a small bowl, make the dressing by whisking the vinegar, oil, garlic and chili powder.
Pour dressing over bean mixture; toss to coat.
Cover and refrigerate overnight.
Serve with a slotted spoon.
Yield: 12 servings.
Nutritional Facts (approximate)
Serving size – 2/3 cup: 200 calories, 9g fat (1g saturated fat), 0 cholesterol, 120mg sodium, 20g carbohydrate, 7g fiber), 7g protein.
Don't miss another great blog: Subscribe Now