We welcome back our Holiday Challenge participant and guest blogger, Kimberly, for an update on her new physical activity routine. Not all types of exercise are a perfect fit for everyone. Keep trying new classes or types of exercise until you find the ones you love. What IS the perfect workout? The one you love to do!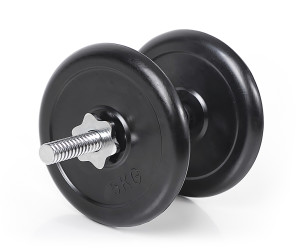 I quit yoga class on Monday and didn't return on Wednesday.   It wasn't a good fit for me and I did not find the changes I was looking for.  That can be a bummer when you're trying to tighten up arm muscles while thumbing through the perfumed pages of Elle and Vogue.  Don't get me wrong, I'm not trying to look like America's Next Top Model.  I'm trying to look like me, in a sleeveless burgundy dress that's hanging in my closet for the upcoming holiday festivities.
I still lift weights on Tuesdays and Thursdays.  I can see something when I flex my right arm with 10 pound and 20 pound weights.  I can definitely feel something (soreness).  On Tuesdays, I begin my workout with arm curls while listening to Tim McGraw sing "I like it. I love it.  I want some more of it."  In my case, I like pumping iron.  Getting physical three times a week helps reduce calories and pounds.  The experts say I should alternate days. On Thursdays and Saturdays, I pull weights up and down on a contraption that I don't even know its name (sounds like a Carrie Underwood song).  I feel the burn to Trisha Yearwood's Wrong Side of Memphis. Yearwood's refrain about a tank of gas and a '69 Tempest taking her to Nashville motivates me to concentrate on the big picture— a healthy lifestyle.  I will keep you posted.