It is really tough to find a good meatless meatball substitute. They always wind up too dry and crumbly, or too hard and tough. Pre-made ones have a lot of additives, and homemade ones are tough to keep together while cooking. But this recipe is one of the simplest (and healthiest) that I've seen, and it works!
Lentils are not only protein-packed, but also provide fiber and many other nutrients. Make this easy swap next time you're craving spaghetti and meatballs but want something that packs more nutrients to fill the bowl! Another great lentil substitute is lentil sliders.
This recipe is from Forest Feast Mediterranean by Erin Gleeson and makes 4-5 servings. They can be used as an appetizer, in spaghetti and meatballs, or as a side dish dipped in pesto or marinara.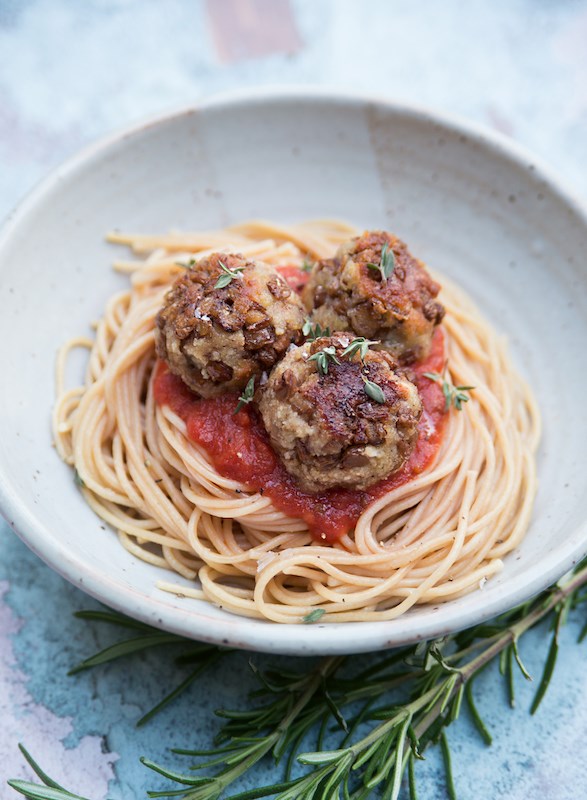 Easy Meatless Meatballs
Ingredients
1 and 1/3c lentils, cooked
1/2 c breadcrumbs
1 large egg
2 cloves minced garlic
Pinch red pepper flakes
Kosher salt and pepper to taste
Instructions
Mix the ingredients well. Roll into 1 inch balls. Fry them in a little olive oil on medium low, turning a few times until brown on all sides.
Many meatless meatballs are baked, you could experiment with this if you want to avoid the oil as well. 10-15 minutes on 375 should be a good place to start.
Nutrition Information per Serving (not including what you might eat the meatballs with!):
Calories – 154
Fat – 2 g
Protein – 10 g
Carbs – 25 g
Don't miss another great blog: Subscribe Now