I LOVE traditional Indian restaurant cuisine! And among my favorites is Chicken Tikka Masala. I do not eat this as often as I would like because it is very heavy and typically has a lot of butter and cream. In an effort to use my Instant Pot more, I have been trying to find tasty and healthy recipes and came across one for Chicken Tikka Masala. To cut the saturated fat and calories, I adapted an Instant Pot recipe* by removing the butter and cream to shave off 10 grams of saturated fat and 112 calories per serving and it was still delicious!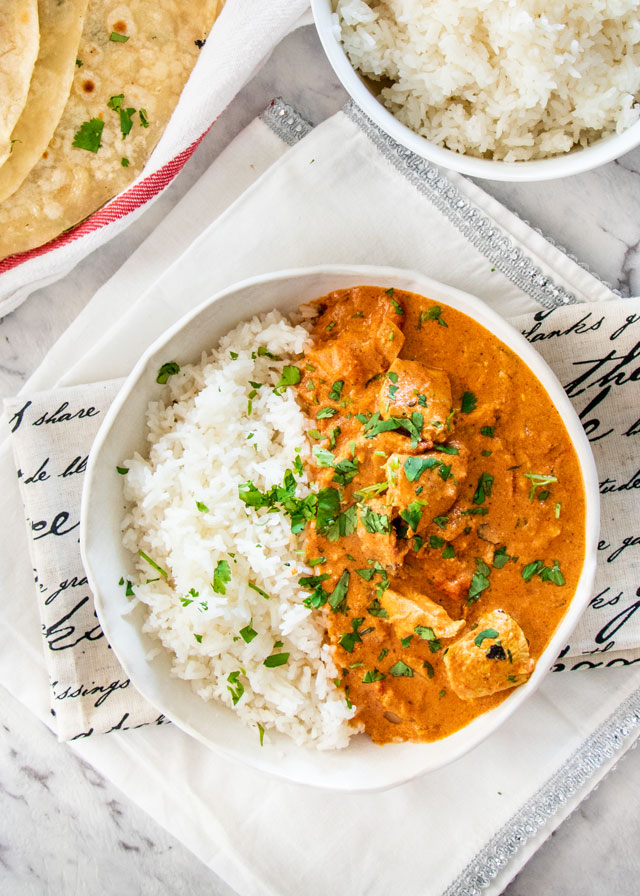 Healthy Instant Pot Chicken Tikka Masala
Hint: The fresh ginger is key to this recipe.
Equipment needed
6-quart Instant Pot (medium size)
Ingredients
Chicken Tikka
2 pounds chicken thighs, skinless and boneless
1 ½ cup 2% plain Greek yogurt
Juice from one lemon
1 tablespoon garam masala
1 tablespoon fresh ginger, minced
5 cloves garlic, minced
Salt to taste
Curry Sauce
3 tablespoons olive oil
2 large yellow onions, chopped
5 cloves garlic, minced
1 tablespoon fresh ginger, minced
1 teaspoon turmeric
1 teaspoon cumin
2 teaspoons garam masala
2 teaspoons coriander, ground
2 teaspoons chili powder
14-oz can fire roasted tomatoes or regular diced tomatoes for less heat
1 large 28-oz can tomato sauce
Salt to taste
Instructions
Combine the chicken tikka ingredients together in a large bowl so that each chicken piece is fully coated with yogurt mixture. Cover and refrigerate for at least 30 minutes and up to 48 hours. I marinated overnight and it worked well.
Turn on Instant Pot to sauté setting using manufacturer's instructions.
Add olive oil, onion, ginger, garlic, turmeric, garam masala, coriander, cumin, and chili power. Stir and cook for 3-5 minutes until onion becomes translucent.
Add the fire roasted tomatoes and tomato sauce and stir.
Add the chicken, cooking until browned.
Close the lid according to manufacturer's instructions. Set the Instant Pot to the Poultry setting and set timer to 5 minutes. Lesson learned: Be sure that none of the yogurt mixture builds up around the rim of the Instant Pot. This will cause the lid to not seal properly and will give you a 'burn' error message. I was very confused by this message and had to research what was going wrong.
Once the Instant Pot cycle is complete, wait until the natural release cycle is complete, (approx. 10 minutes). If you are in a hurry, follow the manufacturer's instructions for quick release. Carefully remove lid.
Serve over brown rice. You can also serve with naan or roti.
355 calories/serving
Don't miss another great blog: Subscribe Now