Pulao is a common dish from India – it is basically rice cooked with vegetables and a protein. Making this dish in an Instant Pot makes for an easy one-pot meal. Growing up, I was only exposed to white rice and the traditional pulao recipe uses this rice as well. I have yet to experiment making this dish with brown rice. It can certainly be done as long as the cooking time is increased for brown rice but the vegetables don't become too mushy.
I plan to cook the same dish soon by cooking brown rice separately and preparing all the vegetables with spices separately and then mixing it all up. Until then, try the recipe below which is a healthier version of the traditional pulao recipe as it uses olive oil vs. butter and a lot more vegetables and protein so the amount of rice in each serving is minimal (1/8 cup).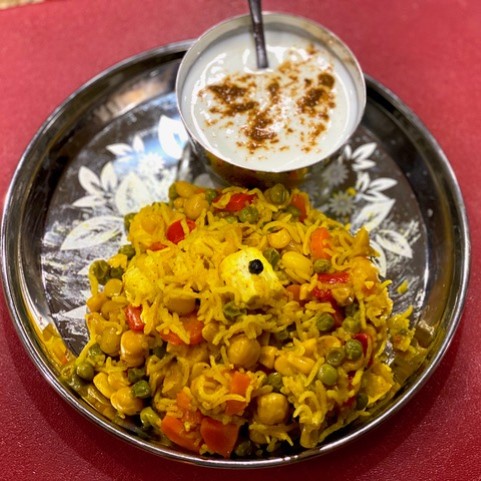 Instant Pot Vegetable Pulao (Indian Pilaf)
Serves 8
Ingredients
Whole Spices
2-3 bay leaves
2-3 black cardamom
6-8 black cloves
1 – 2 tsp whole black pepper
2 tsp cumin seeds
Ground Spices
1 tbsp turmeric powder (optional)
1 tbsp cayenne pepper powder
1 tbsp garam masala powder (optional)
Salt to taste
Other Ingredients:
4 tbsp extra virgin olive oil
1 cup cashews, unsalted
2 cups chopped carrots
2 cups frozen petite green peas, rinsed
1 cup frozen baby sweet corn, rinsed
1 red bell pepper, diced
1 can (15 oz) garbanzo beans, drained and rinsed
1 cup paneer cubes
1 cup basmati rice, washed
2 cups water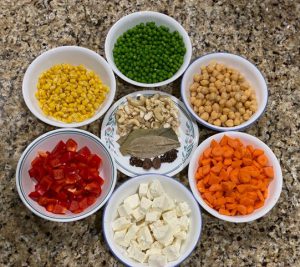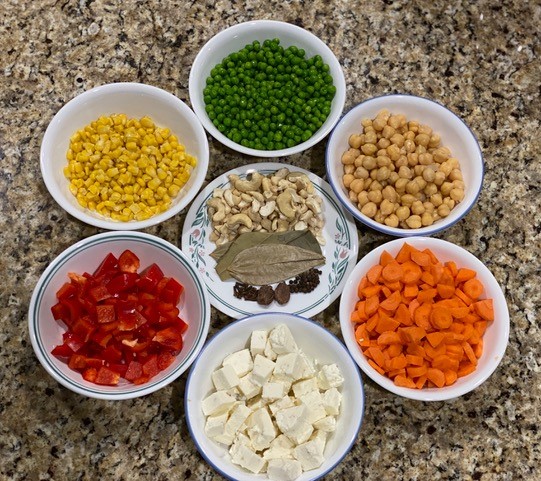 Directions:
Put Instant Pot in Sauté mode for 10 minutes.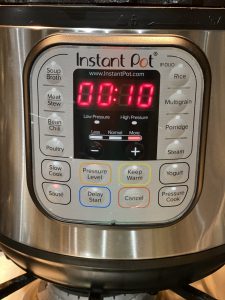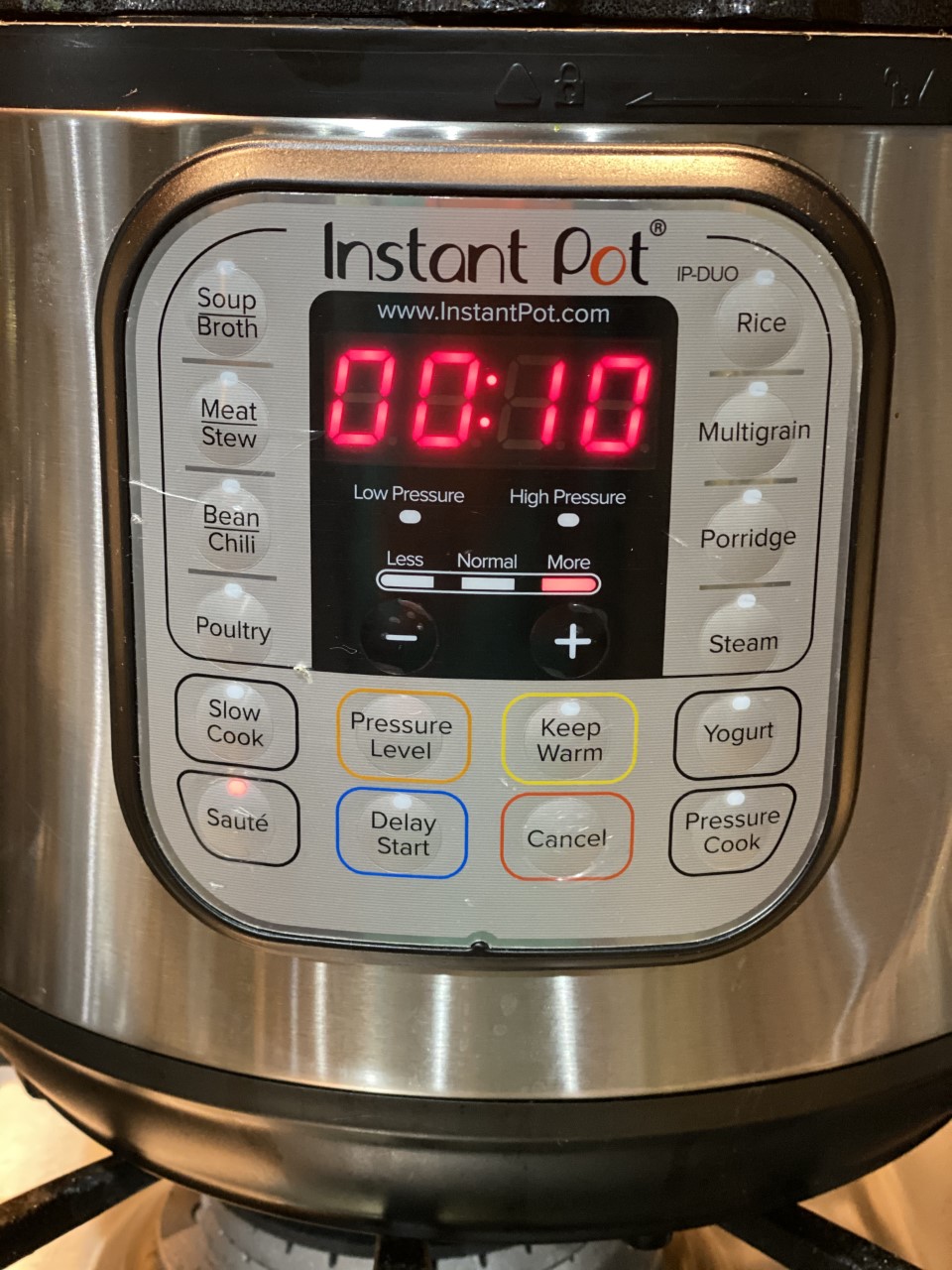 2. Add olive oil. Once hot, add all dry spices followed by ground spices (except salt) and mix.
3. Add cashews and roast for about a minute.
4. Add all vegetables and beans. Mix well and leave for 2-4 minutes.
5. Add paneer, rice, water and salt and mix well.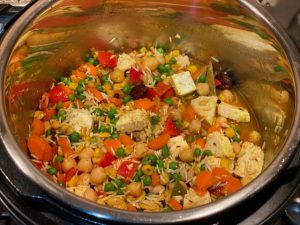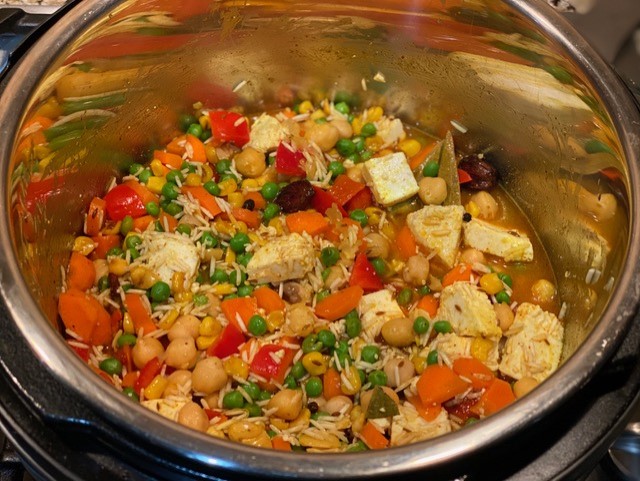 6. Press Cancel on the Instant Pot. Close the lid. Make sure the pressure valve is turned towards sealing.
7. Put Instant Pot on Pressure Cook for 4 minutes.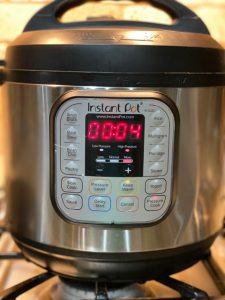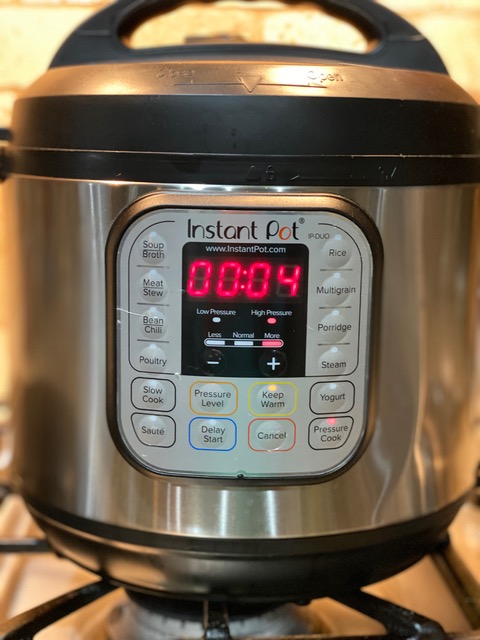 8. Once the timer is up, leave it for 10 minutes and then release the pressure manually.
9. Open the lid, fluff rice with a fork and remove the inside pot so the bottom does not continue to heat (place pot on trivet or cooling rack).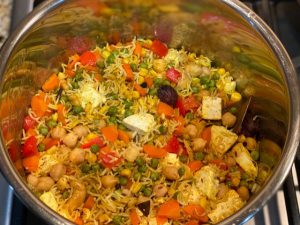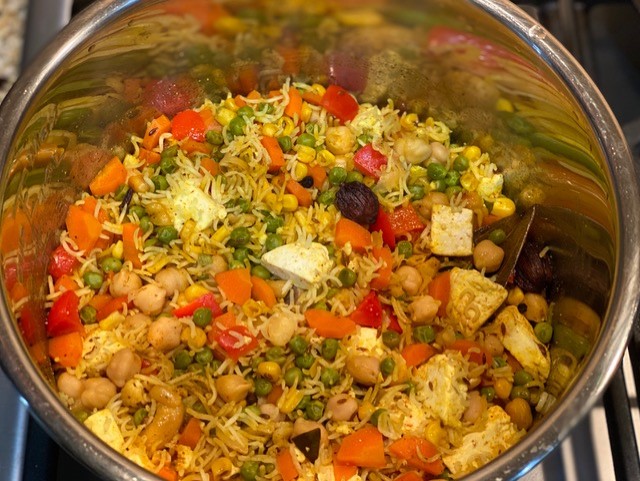 10. Serve hot with a side of plain yogurt. To make it hotter, sprinkle with finely chopped fresh jalapenos or green chilli.
Do not worry if you do not have an Instant Pot. Follow the same recipe to cook the dish in a regular pot on the stove top. After adding all ingredients, keep it on high heat until the water begins to simmer and then lower the heat. Cover the pot and let it cook until rice is done.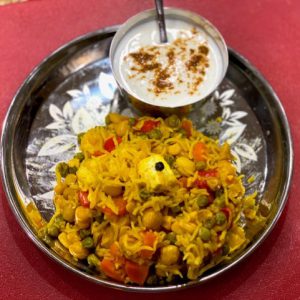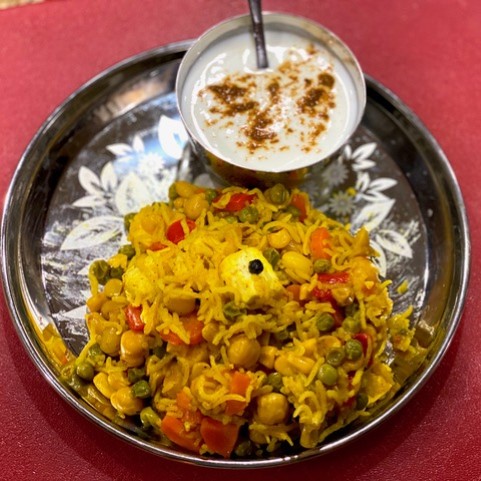 Notes:
The vegetables listed above can be substituted or added with others such as finely chopped green beans or cauliflower.
Paneer is Indian cottage cheese. Store bought paneer can be high in fat and calories. The pictures below show homemade paneer with 2% milk. Paneer can be substituted with chicken or other protein.
Water can be substituted with vegetable broth for added flavor.
All spices can be adjusted up or down based upon taste preferences.
This recipe can be made very quickly for a busy weeknight and in one pot if you can plan and prep all ingredients ahead of time.
Nutrition Information per Serving (excluding side of yogurt)*:
Calories – 385
Fat – 19 grams
Protein – 14 grams
Carbohydrates – 40 grams
* Calculated using MyFitnessPal recipe analyzer, www.myfitnesspal.com/recipe/calculator
Of the paneer options presented, Dairy-Paneer, 200 grams was used for the analysis. The actual nutrition content can vary slightly based upon the type of paneer used.
Don't miss another great blog: Subscribe Now