Lately, I have been trying to dedicate time each Sunday to meal prep for the week ahead. The level of meal prep may vary from week to week and some weeks I may only be able to chop a few vegetables and throw a salad together for my lunches. But, I have found that even a small amount of meal prep on the weekend goes a long way towards staying on track all week.
When I'm really prepared, I try to meal prep breakfasts (which usually consists of baked oatmeal), lunches (chicken + a whole grain), and at least chop ingredients/assemble dinners as much as I can. This not only keeps my healthy eating on track, but also makes the week less stressful because I know exactly what we are having for breakfast, lunch, and dinner without having to think about it after a long day.
I stumbled upon this recipe while googling "make ahead freezer meals". I don't use my slow cooker as much anymore (read more about Why the Instant Pot is my Favorite Kitchen Appliance), but some days the longer cooking time just works better with my schedule. This recipe fit the bill in a few ways:
Flexibility to combine all of the ingredients ahead of time and place in the freezer until ready to cook
Minimal involvement when ready to cook (read that as throw in slow cooker and forget about it)
Healthy and tasty ingredients that could be used in a variety of ways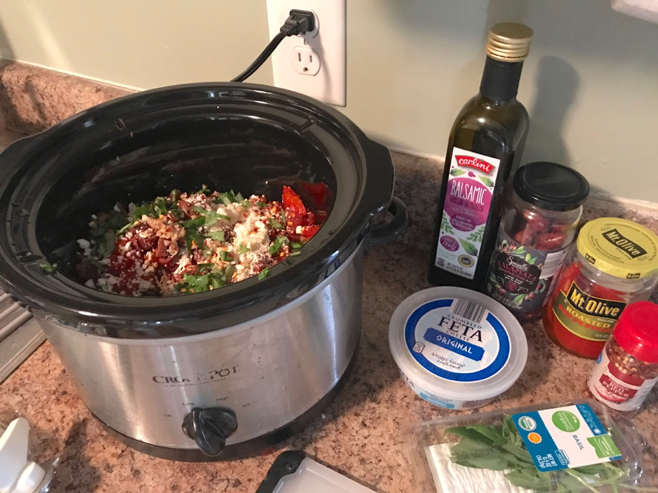 Meal Prep Mediterranean Chicken
Recipe adapted from thefamilyfreezer.com
Yields: 4 servings
Ingredients:
1 pound boneless, skinless chicken breasts
15 oz can diced tomatoes
6 oz (1/2 jar) of roasted red peppers, drained and diced
5 oz (1/2 jar) pitted kalamata olives, drained and chopped
3 teaspoons minced garlic
4 oz feta cheese, crumbled
2 tablespoons balsamic vinegar
¼ teaspoon red pepper flakes
¼ cup fresh Basil, chopped
Directions:
Combine all ingredients in slow cooker.
Cook on low for 6-8 hours.
Note: If you decide to combine all ingredients together ahead of time and then freeze, make sure to defrost overnight before putting in slow cooker.
I decided to use this chicken in a Mediterranean bowl with whole wheat couscous, roasted zucchini, and steamed butternut squash. I simply used the juices from the Mediterranean chicken as a "sauce" which turned out to be very flavorful. This made for a healthy and filing lunch all week!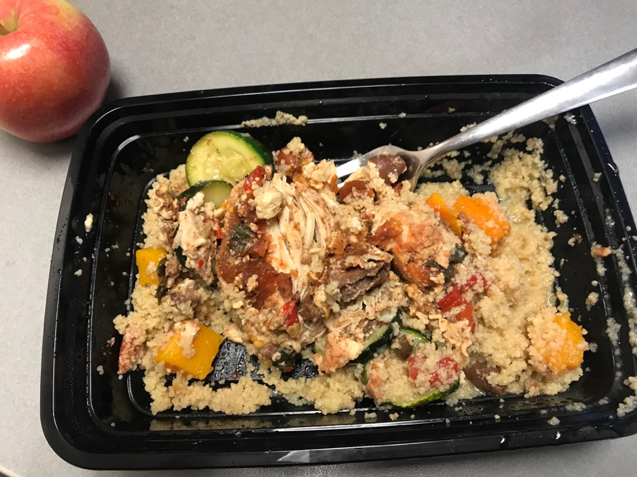 Don't miss another great blog: Subscribe Now