As more of us are cooking at home these days, meal fatigue is a real problem that many are facing. I want to tell you about a way to lessen the cooking load while still getting in a complete and nutritious meal.
Enter: the snack meal. A snack meal is basically a bunch of small portions of snack foods eaten together in a quantity that satisfies as much as a typical lunch or dinner. Who says you have to fire up the oven or stovetop to get a healthy meal ready for your family? With snack meals, you can use what you have in your pantry and refrigerator to make a healthy and adaptable meal. This is a great option when meal fatigue is setting in and cooking feels daunting.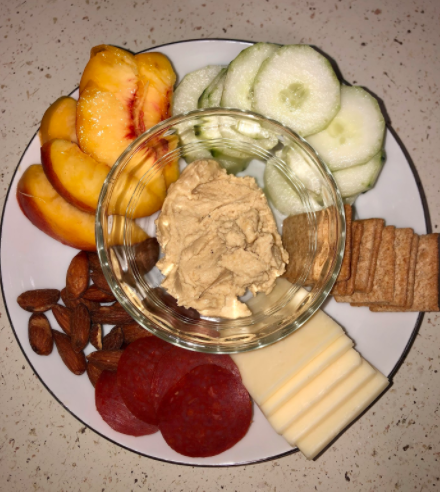 Try out a snack meal with the simple formula of whole grains, protein, and healthy fats.
A snack-meal should include:
1-2 fruits
1-2 veggies
1-2 protein sources (cheese, yogurt, hard-boiled egg, hummus)
1 healthy fat source (nut butter, avocado, whole nuts)
1 whole-grain (whole grain crackers, whole wheat tortilla, popcorn)
Of course, this formula is flexible. Snack meals are all about eating what you enjoy eating. A fun treat like Chocolate Bark can also be included in this formula.
My go-to snack meal includes some type of berry, apple slices, cucumber slices, hummus, avocado, cheddar cheese, whole grain crackers, and a handful of dark chocolate chips. Make sure to portion out your plate so that you can eat mindfully and are not just grazing from a large platter of food.
Try out a snack meal for yourself or your family, and tell us about your favorite combinations in the comments.
Don't miss another great blog: Subscribe Now