We, as a family, have cut down on our consumption of rice (both brown and white rice) for reduce our intake of starch. So instead we have been eating quinoa with Indian curries. Most curries go very well with white quinoa. I had an old batch of black quinoa which has slightly harder /coarse texture in my pantry and it does not go quite well with Indian curries so I was looking for some other option to finish up the black quinoa. I bumped into a quinoa burger recipe online. I tweaked it a little and added some Indian spices. It turned out really tasty.
Ingredients:
1 cup black quinoa (can use sprouted quinoa too)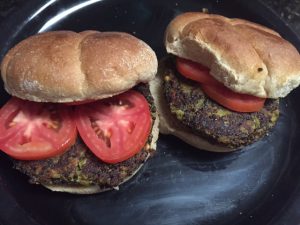 1 medium sized potato (boiled and mashed)
1/4 cup rice flour
1 tsp ginger paste
1 tsp garlic paste
1/4 tsp turmeric powder
1 tsp coriander powder
1 tsp cumin powder
1 tsp paprika (optional and adjust according to spicy needs)
1/2 tsp curry powder
2 tbsp lemon juice
1/4 cup chopped cilantro
Salt to taste
Method:
Cook the black quinoa according to the package instructions or until it becomes soft ( you should be able to crush the individual cooked grains between your index finger and thumb).
Take this cooked quinoa in a large pot and add in the boiled/mashed potato. Mix well with your hands. To this add in rice flour, ginger garlic paste, turmeric powder, cumin powder, coriander powder, curry powder, paprika(optional), and lemon juice and give a nice mix with your hands so all the ingredients come together. Then add salt to taste and mix well. Finally add in chopped cilantro and mix well.
Nicely kneed the mixture and make small balls with palms of your hand and flatten them in shape of burger.
As the burgers are getting ready, heat the griddle (to 400 F )or pan and spray little cooking oil ( olive oil spray ) and keep placing the individual burgers on the griddle. Once all the burgers are place, spray some olive oil again. Allow to cook for 5 minutes and flip over the burgers slowly so they do not break and cook for another 5 minutes. Keep flipping slowly and when burgers turn slightly reddish brown in color remove all the burgers and place in a serving dish.
Serve these Quinoa burgers with either whole wheat buns or sandwich breads along with lettuce and tomatoes. It can be eaten as it is with rice and curries.
Nutrition Information per Serving
Recipe serves 4
Serving Size: 1 burger
Calories: 240
Fat: 2 grams
Sodium: 15 mg
Carbohydrates: 49 grams
Fiber: 6 grams
Sugar: 5 grams (Includes 0g Added Sugars)
Protein: 7 grams