The recording for the latest Nutrition Decisions webinar series is now available. Dr. Dunn spoke about common nutrition claims and how to determine if they are truthful. Examples include detox diet claims, high fructose corn syrup claims, diet advertisements, sugar, and more. She even reveals the truth behind protein bars.. and how to choose a better healthy snack. Click the link below to watch the recording now:
Interpreting Nutrition Claims. Fact or Fiction? Webinar Recording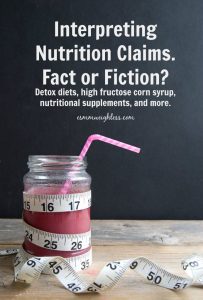 To view other recordings of past webinars, please visit our Webinar Page.
Sign up to receive more information about this free webinar series.