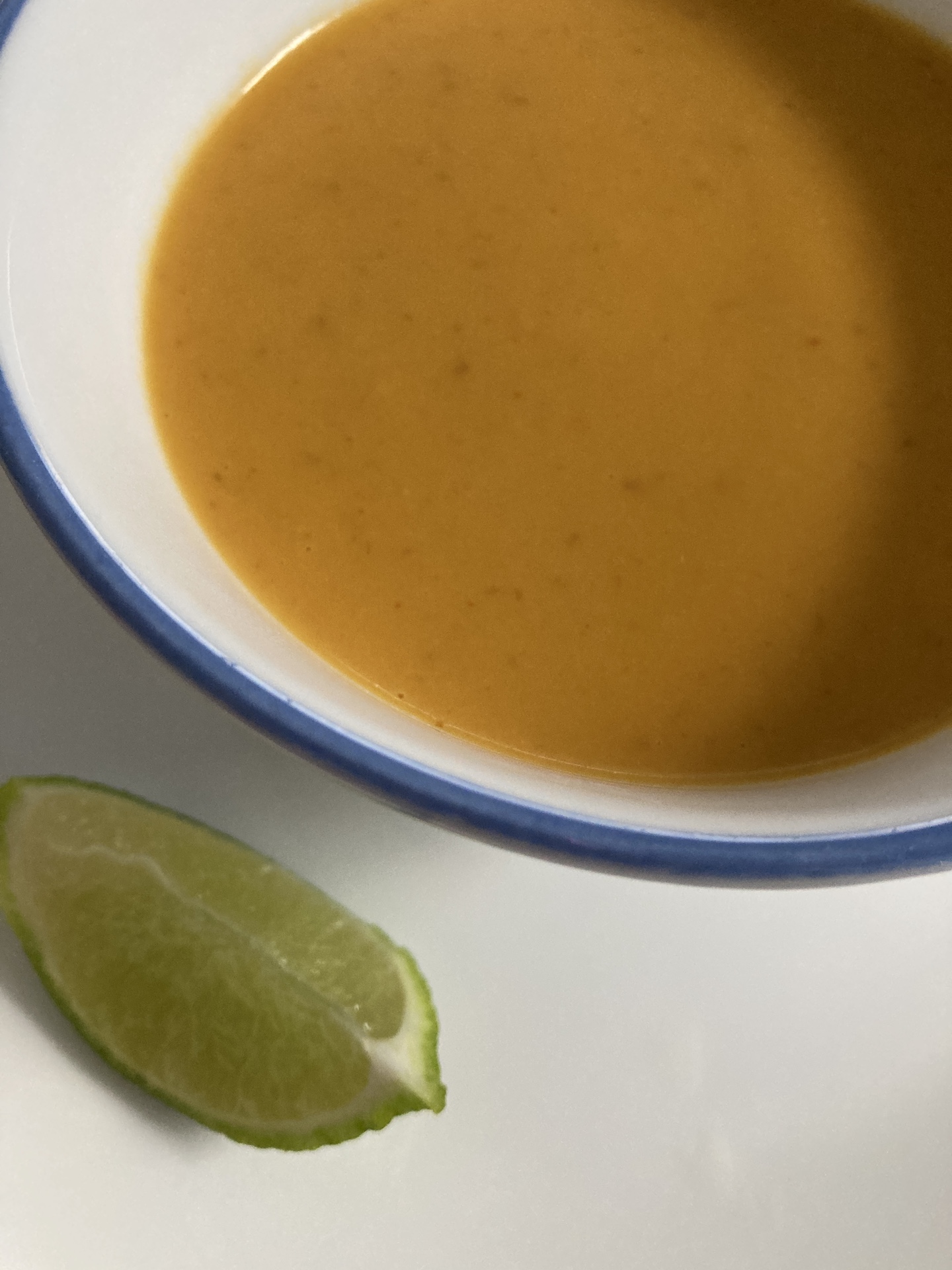 This is a simple and delicious soup that uses canned pumpkin. It has a nice amount of heat and interesting flavor thanks to the lime juice topping and the Thai red curry paste. I prefer to blend the soup so you don't have whole pieces of onion but that is optional. I also prefer to add coconut milk as it really rounds out the soup. You can use light coconut milk that is really just coconut milk with water added or brave the extra calories (add a mile to your walk) and enjoy the full-fat coconut milk for a special treat.
Ingredients
1 tbs olive oil
1 small to medium onion, diced
2 tbs Thai red curry paste
1 tbs ginger, grated
2 cups low sodium vegetable or chicken broth
1 15-oz can pumpkin puree
Salt to taste
1 can coconut milk (light or regular) (optional)
1 lime, cut into wedges
Directions
Heat olive oil in a large pot over medium heat. Add onion and sauté for 5 minutes or until softened, do not allow to brown.
Add the ginger and the curry paste and sauté for two more minutes or until fragrant.
Add the broth and bring to a simmer.
Stir until the curry paste dissolves.
Add the pumpkin puree, stir until well combined and heated through. Season with salt to taste, the amount will depend on how much salt is in the broth you use.
Blend using an immersion blender or regular blender. This step is optional but does result in a better product.
Add the soup back to the pot. If using, add coconut milk. Heat soup to desired temp. Check salt again and adjust if needed.
Spoon into bowls. Serve with a lime wedge.
Nutrition Information per Serving
*Does not include the optional 1 can coconut milk
Serving Size: 12 ounces
Calories: 110 calories
Fat: 4.5 grams
Sodium: 670 mg
Carbohydrates: 14 grams
Fiber: 0 grams
Sugar: 7 grams (Includes 0g Added Sugars)
Protein: 2 grams
Don't miss another great blog: Subscribe Now