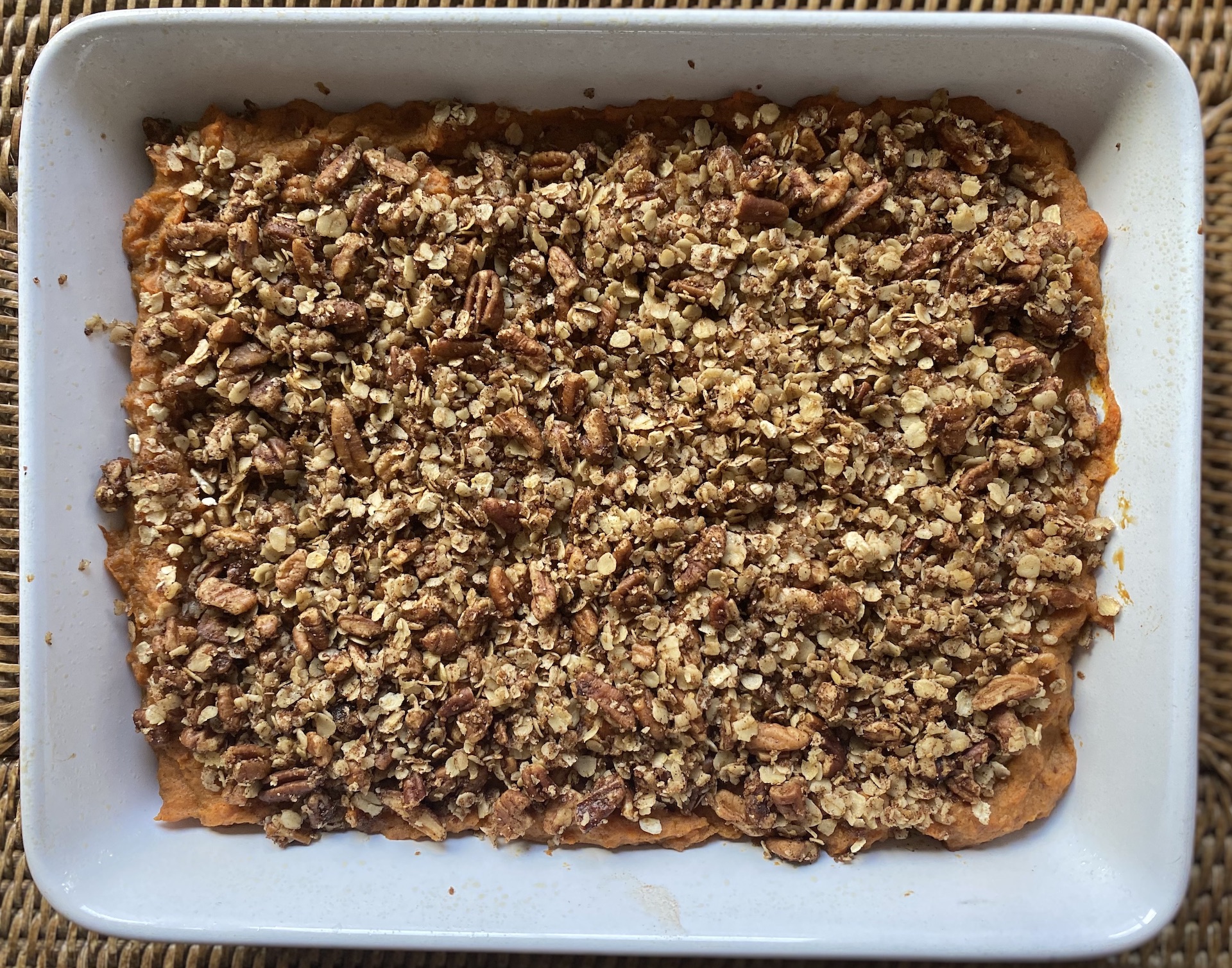 With the holidays just around the corner, many of us are dusting off recipes that we use only a few times a year. If your family is like mine, Sweet Potato Casserole is always on the menu at the holidays. Sweet potatoes are full of vitamins, minerals, and a great source of fiber, but with all of the added sugar, traditional Sweet Potato Casserole is more like a dessert than a side dish. This year I decided to experiment with a healthy remix to a holiday classic. I landed on two takes of Sweet Potato Casserole – one that is velvety in texture and reminds me most of the traditional version and one that has more of a firm texture with a yummy banana flavor.
Fresh sweet potatoes are best for both of these recipes. They cook quickly in the microwave making both of these side dishes easy to prepare. For canned, try to find sweet potatoes canned in water or light syrup and always drain and rinse before using.
Happy Holidays!
Sweet Potato Casserole
This take on a traditional Sweet Potato Casserole offers a healthy way to enjoy this holiday classic any time of the year! Using fresh sweet potatoes is best, but draining and rinsing canned sweet potatoes would also work. Recipe provided by Med Instead of Meds.
Serves: 9
Prep time: 20 minutes
Cook time: 20-25 minutes
Total time: 40-45 minutes
Ingredients
4 medium sweet potatoes (about 1 pound)*
½ cup (or 4oz) unsweetened apple sauce
¼ cup milk
1 tablespoon vanilla extract
1 teaspoon ground cinnamon
¼ teaspoon nutmeg
Topping
½ cup quick oats
½ cup chopped pecans (optional)
1 tablespoon brown sugar
2 teaspoons ground cinnamon
1 ½ tablespoon canola oil
Directions
Pierce clean sweet potatoes with a fork and place in a microwave-safe dish.
Microwave on high for 15-18 minutes, or until tender. Flip sweet potatoes halfway through.
Preheat oven to 350 degrees.
Remove sweet potatoes from microwave and carefully cut lengthwise; this will help to cool them faster.
Once the sweet potatoes are able to be held, hold each half and scoop the insides into a mixing bowl, discarding the skins.
Use a potato masher, hand beaters, or a food processor to further mash sweet potatoes.
To the sweet potatoes, add apple sauce, milk, vanilla extract, cinnamon, and nutmeg. Stir to combine.
Pour mixture into a 9-inch square baking dish.
In a small bowl, mix together quick oats, pecans (optional), brown sugar, cinnamon, and canola oil.
Sprinkle oat mixture evenly on top of the sweet potato mixture.
Bake for 20-25 minutes.
Remove pan from oven and allow to stand for 5 minutes. Cut into 9 pieces.
*Notes: Canned sweet potatoes: Rinse and drain a 40-oz can of cut sweet potatoes (about 1 pound of sweet potatoes will remain after discarding the liquid.)
Nutrition Information per Serving
Serving Size: 1/9 of pan
Calories: 150
Carbohydrates: 20 grams
Fiber: 3 grams
Protein: 2 grams
Fat: 7 grams
Sodium: 25 mg
Don't miss another great blog: Subscribe Now