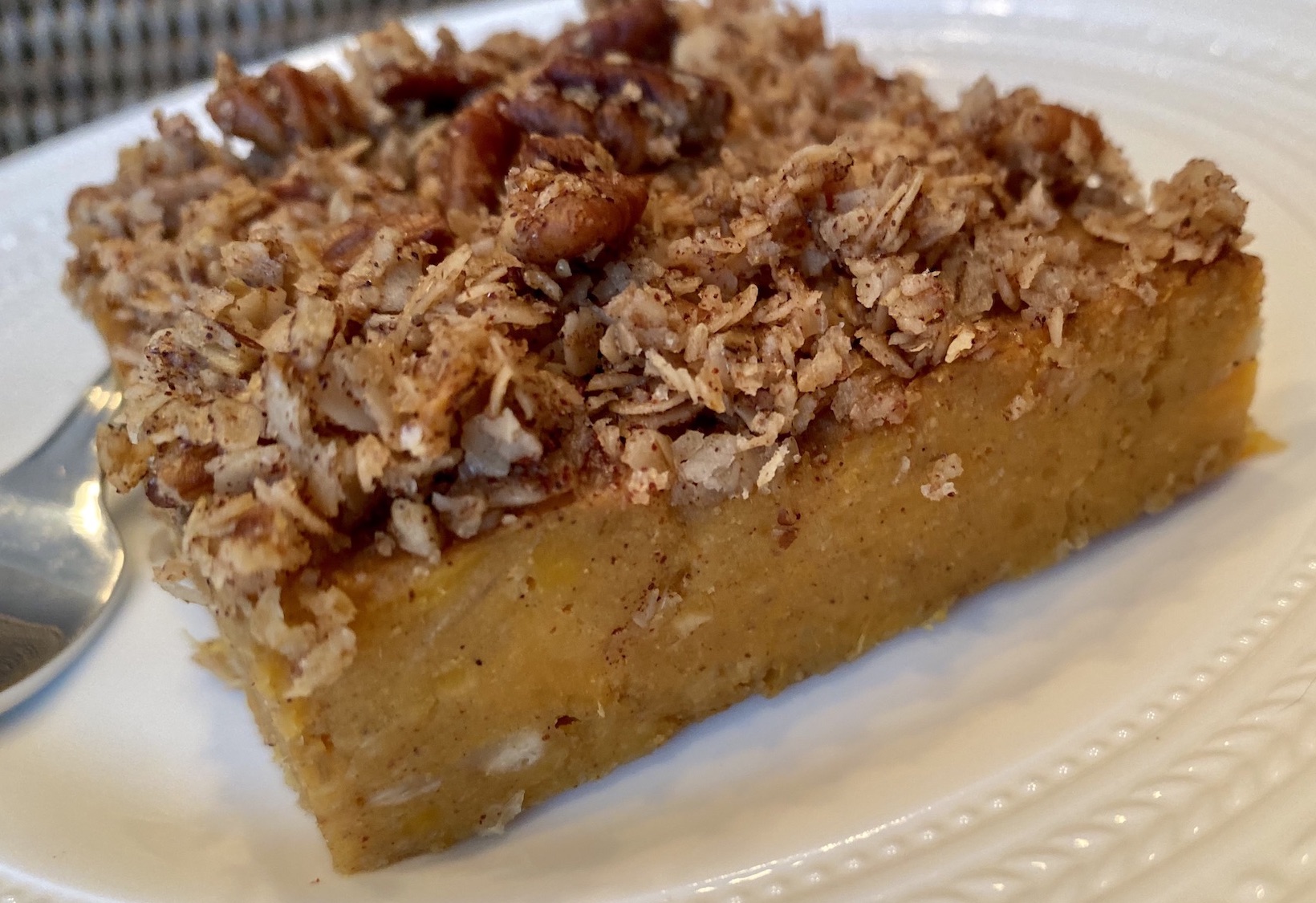 This year I decided to experiment with a healthy remix to a holiday classic. I landed on two takes of Sweet Potato Casserole – one that is velvety in texture and reminds me most of the traditional version and the one below that has more of a firm texture with a yummy banana flavor.
If you are looking for a way to change up your standard Sweet Potato Casserole – add banana! Banana's act as a natural sweetener in this dish, allowing you to skip the sugar and added calories. This firm casserole can be cut into squares.
Serves: 9
Prep time: 20 minutes
Cook time: 20-25 minutes
Total time: 40-45 minutes
Ingredients
4 medium sweet potatoes (about 1 pound)*
1 ripe banana
1 tablespoon vanilla extract
1 teaspoon ground cinnamon
¼ teaspoon nutmeg
2 egg whites
Topping
½ cup quick oats
½ cup chopped pecans (optional)
1 tablespoon brown sugar
2 teaspoons ground cinnamon
1 ½ tablespoon canola oil
Directions
Pierce clean sweet potatoes with a fork and place in a microwave-safe dish.
Microwave on high for 15-18 minutes, or until tender. Flip sweet potatoes halfway through.
Preheat oven to 350 degrees.
Remove sweet potatoes from microwave and carefully cut lengthwise; this will help to cool them faster.
Once the sweet potatoes are able to be held, hold each half and scoop the insides into a mixing bowl, discarding the skins.
Use a potato masher, hand beaters, or a food processor to further mash sweet potatoes. Add 1 ripe banana and mash again to combine.
To the sweet potatoes and banana, add vanilla extract, cinnamon, and nutmeg. Be sure the mixture is not hot and then add egg whites. Stir to combine.
Pour mixture into a 9-inch square baking dish.
In a small bowl, mix together quick oats, pecans (optional), brown sugar, cinnamon, and canola oil.
Sprinkle oat mixture evenly on top of the sweet potato mixture.
Bake for 20-25 minutes.
Remove pan from oven and allow to stand for 5 minutes. Cut into 9 pieces.
*Notes: Canned sweet potatoes: Rinse and drain a 40-oz can of cut sweet potatoes (about 1 pound of sweet potatoes will remain after discarding the liquid.)
Nutrition Information per Serving
Serving Size: 1/9 of pan
Calories: 160
Carbohydrates: 21 grams
Fiber: 4 grams
Protein: 3 grams
Fat: 7 grams
Sodium: 35 mg
Don't miss another great blog: Subscribe Now