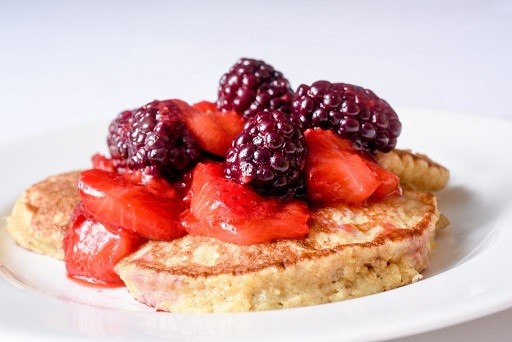 Have you ever considered making pancakes with some of those ripe bananas at home? This Banana Oatmeal Pancakes recipe is a simple and tasty alternative to traditional pancakes and comes from the Med Instead of Meds website. Try this amazing breakfast dish with your favorite fruit, peanut butter or chopped nuts on top!
Serves 2
Serving Size: 3 pancakes
Prep time: 5 minutes
Cook time: 20 minutes
Total Time: 25 minutes
Ingredients:
2 eggs, beaten
2 bananas, mashed
½ cup of old-fashioned rolled oats, uncooked
½ teaspoon baking powder
¼ teaspoon vanilla extract
⅛ teaspoon cinnamon
½ teaspoon olive oil
½ cup fresh or frozen fruit of your choice (optional)
Directions:
In a medium bowl, combine eggs, bananas, rolled oats, baking powder, vanilla extract, and cinnamon. The batter should be cohesive and without lumps.
Heat olive oil in medium skillet on medium-low heat. Once heated, spoon ¼ cup portions of the batter onto skillet and cook until golden brown on both sides (about 4 minutes on each side).
Heat fruit in a small skillet until warm, stirring occasionally. Serve over pancakes. You can also serve pancakes with chopped nuts or peanut butter on top.
Nutrition Information per Serving:
(Based on ½ cup frozen mixed fruit)
Serving Size: 3 pancakes
Vegetables: 0 cups
Fruits: 1¼ cups
Calories: 302 calories
Carbohydrates: 47 grams
Fiber: 6 grams
Protein: 11 grams
Fat: 9 grams
Sodium: 198 mg
Don't miss another great blog: Subscribe Now