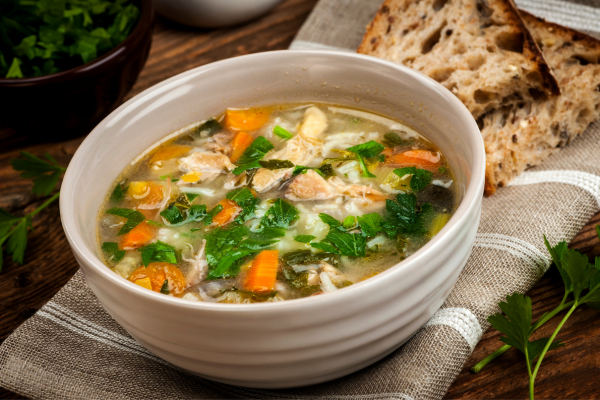 When it begins to get chilly outside, one of the best ways to stay warm is with a hot cup of soup. Soups are a budget-friendly way to incorporate more vegetables into your day and there are many combinations of spices and flavors to try. We generally recommend avoiding cream-based soups like bisques and chowders due to the saturated fat content. It is best to stick with broth-based soups. Soups make a quick weeknight one-pot dinner, or when made ahead, can be a lunch that is eaten all week or frozen for later. Vegetable soups are often substitution friendly–meaning that you can substitute corn for peas or barley for rice. 
When shopping for canned soups make sure to cut the salt, keep the flavor, and load up on beans and vegetables. Thanks to the new Nutrition Facts label, many soup cans now show the numbers for the whole can, jar, or carton in the second column. If you are buying a small-sized can, you may have to do some math since the can may not have space for the second column and will likely only show the numbers for 1 cup of prepared soup.
Soup Recipes to Try
Bonus tip
Skip the expensive boxed stock and make your own vegetable or chicken stock. 
Don't miss another great blog: Subscribe Now