Are you looking for a really quick salad to bring to a party or to round out a holiday meal? I know I am always looking for something healthy, delicious, and colorful to take to a party. There will be plenty of sweets and cookies – I like to bring something healthy and delicious. You might remember this salad from Week 1 of the Holiday Challenge, but it is worth bringing up again because this salad fits the bill in so many ways. It is red and green for the holidays, super delicious, has an acid punch to cut through richer dishes that may be on your plate, is inexpensive to make, and easy. I make it at home and serve it with grilled chicken or pork. Give it a try.
Tangy Apple Cucumber Slaw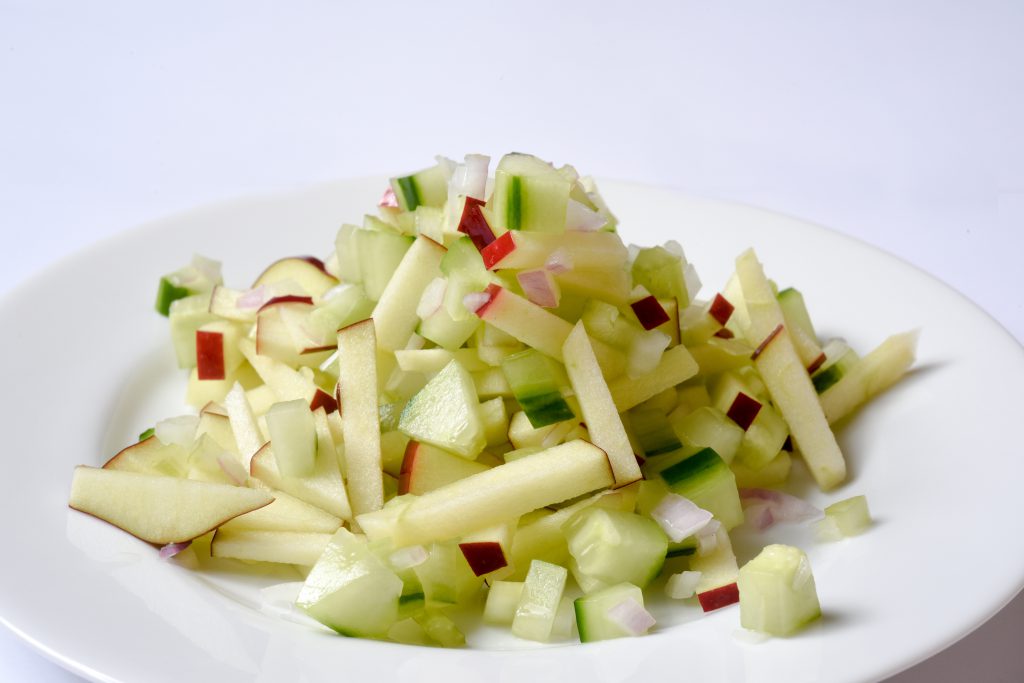 Source: Medinsteadofmeds.com
Serves 2
Ingredients
1 apple, cut into matchsticks (use a sweet apple such as Red Delicious, or a tart apple such as Granny Smith)
½ English cucumber, chopped
¼ sweet onion, chopped
2 celery stalks, chopped fine
¼ cup white wine vinegar or rice wine vinegar
Salt and pepper to taste
Instructions
Combine all ingredients in a large bowl.
Serve immediately, or chill in refrigerator until serving.
Notes
This recipe goes well with Salmon Burgers, or as a bed for fish or chicken.
Prep Time: 15 minutes
Nutrition Information
Per Serving (Based on ¼ teaspoon salt and ¼ teaspoon pepper)
Serving Size: 1 cup
Vegetables: ½ cup
Fruits: ½ cup
Calories: 58 calories
Carbohydrates: 12 grams
Fiber: 2 grams
Protein: 0 grams
Fat: 0 grams
Sodium: 308 mg
For more delicious recipes, go to MedInsteadofMeds.com.
Don't miss another great blog: Subscribe Now