Strawberry Season has officially arrived!  If you are looking for any excuse to eat these delicious little gems, get creative!  Strawberries are not just for dessert…they can delectably be a part of any meal.  Try this strawberry quinoa salad as a side dish to chicken or fish or just by itself.  Quinoa is high in fiber and protein so it will keep you fuller for longer, plus the sweetness of the strawberries gives it a little flare!
Ingredients: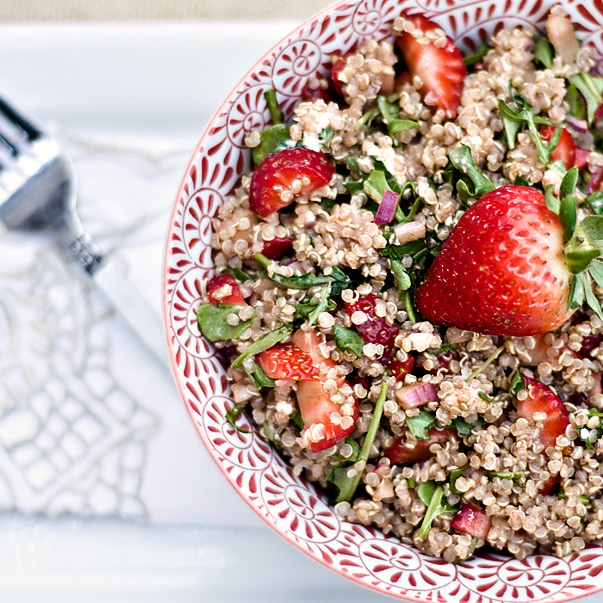 1 cup quinoa
2 cups baby spinach leaves
1 tsp dried basil(can use fresh-2 Tbsp)
2/3 cups sliced strawberries
2 Tbsp toasted sliced almonds
Dressing:
1 Tbsp. apple cider vinegar
1 Tbsp. balsamic vinegar
1 tsp. Dijon mustard
1/2 tsp. honey or agave nectar (or splenda or 1 tsp. sugar)
2 Tbsp. olive oil
Salt and fresh ground pepper to taste
Place quinoa in medium saucepan along with 1 ¾ cups water. Bring to boil, then cover and reduce heat to simmer for 15 minutes or until cooked. Remove lid, and cook, until all water is evaporated.
Prepare dressing earlier if possible. Whisk vinegar, mustard, and honey/sugar together in a small bowl. Slowly pour in the olive oil while you continue to whisk.  Season the dressing with salt and pepper.
Place the quinoa, spinach, strawberries, and toasted almonds in bowl and combine. Add and toss in dressing prior to serving.  The quinoa will absorb the dressing very quickly, so if you prepare in advance you may need to add more dressing just prior to serving.
Enjoy!
Thank you to Eat Smart, Move More, Weigh Less Instructor and Registered Dietitian, Sarah Schroeder, for preparing this beautiful dish for the Farmer on the Mall Season Opener, Halifax Mall, Downtown Raleigh.
Don't miss another great blog: Subscribe Now