It's time for another Eat Smart Move More Weigh Less team review! When you're in a pinch for time, a frozen meal may be a quick fix, but try to choose a healthy option with lean meat, low sodium, and packed with veggies. Hopefully we can point you to the ones that are also delicious!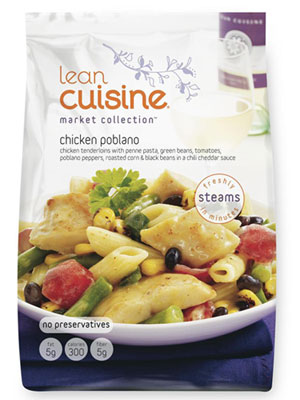 Lean Cuisine Market Collection,Chicken Poblano- Chicken tenderloins with penne pasta, green beans, tomatoes, poblano peppers, roasted corn and black beans in a chili cheddar sauce.
Calories: 300

Price: $2.79
Weight: 10.5 oz
Upside: The veggies are quite tasty, especially the tomatoes and the grilled corn. The sauce has good flavor, but not very "cheddary". Plenty of food for only 300 calories!
Downside: Poblano flavor is not very strong and it could be spicier. The chicken is a little boring and nondescript.
Rating: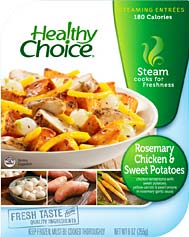 Healthy Choice Steaming Entrees, Rosemary Chicken & Sweet Potatoes- Chicken tenderloins with sweet potatoes, yellow carrots, and pearl onions in a rosemary garlic sauce.
Calories: 180

Price: $2.89
Weight: 9 oz
Upside: Sweet potatoes instead of regular potatoes are a nice change of pace and they are pretty tasty. The meal is very low in calories!
Downside: The chicken is dry, the sauce is very boring, and the onions do not taste very good.
Rating: 
Amy's Light & Lean Spinach Lasagna- Spinach lasagna made with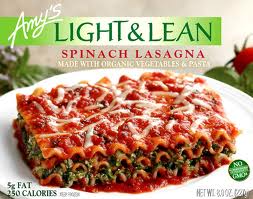 organic vegetables and pasta.
Calories: 250

Price: $3.75
Weight: 8 oz
Upside: This meal is SO good!! Great flavor, tastes like real lasagna, and fills you up. Plus the guarantee of all organic ingredients with no preservatives!
Downside: More expensive than other frozen meals, but this one was on sale. Some might think the portion is a little small.
Rating: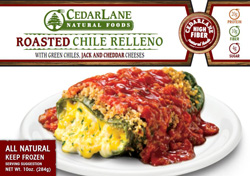 Cedar Lane Natural Foods, Roasted Chile Relleno- Made with green chilies, jack and cheddar cheeses.
Calories: 360

Price: $4.95
Weight: 10 oz
Upside: Whole chilies have really good flavor! Very cheesy just like the package describes.
Downside: Sauce needs salt and spices, I added some Tapatio, and the chilies are a bit tough to cut. This meal is on the pricey side compared to others.
Rating: